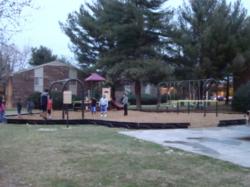 Come home to Pines of Ashton, where convenience, comfort and value meet! Our spacious, value-priced one and two bedroom apartment homes, featuring optional washers and dryers, are surrounded by park-like grounds.
Raleigh, NC (PRWEB) March 26, 2013
The transformation of the new play space resulting from a recently acquired commercial play structure has been amazing! Once upon a time a sandy patched, flat, clover ridden lot was the only real play space the children of the Pines of Ashton had. That no longer is the case. The adjacent lot has been transformed into a wonderful play mecca!
The Pines of Ashton recently purchased several pieces of commercial grade playground equipment from American Parks Company. The purchase included a play structure named Harmony, a 2 Bay arched frame swing set, an arched frame tire swing, landscape timbers, and engineered wood fiber.
"This was a very nice improvement for the them. When you consider the play potential in this upgrade, the children that live at the Pines of Ashton are very lucky." said Chuck Wellenberger, Vice President of Sales, American Parks Company.
The Pines of Ashton provides a great North Beltline location. The property is conveniently situated minutes to downtown, and 18 minutes to RTP. This beautiful community offers a fitness center, indoor/outdoor pools, volleyball, tennis courts, a brand new playground, and acres of space.
American Parks Company is a Prosper Texas based company that provides commercial grade park and playground equipment to municipalities, city parks, schools, churches, daycare facilities, and homeowner associations. Since 2004, American Parks Company has consistently provided high quality play structures at extremely affordable prices.
American Parks Company is quickly becoming an industry leader in both the national sales and installation of commercial playground equipment. For more information on American Parks Company, please call 1-800-381-4491 or visit http://www.AmericanParksCompany.com.