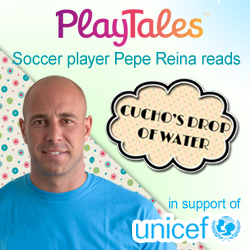 The latest book with UNICEF has now created a strong mix of three interactive ebooks for children that all provide donations to UNICEF funds. We are very proud to be a part of this.
Madrid, Spain (PRWEB) June 05, 2012
Spain and soccer player Pepe Reina have launched Cucho's drop of water, that tries to make children aware of the water shortage and how million people don't have a proper water access. The tale is narrated by Reina in Spanish and English, also including graphics, sound effects and interactive surprises.
The original idea was developed by Spanish company PlayTales, that had already provided its channels and technological capacity for the creation of Give a Day, narrated by Pau Gasol. Both tales can be downloaded through PlayTales app for iPhone and iPad, and from Google Play for other mobile devices.
Cucho's drop of water was written by Carmen Gil and illustrated by Jacobo Muñiz. This tale shows the two opposite stories of Cucho and Kía, which take place in very different realities. The pictures show the inequalities between both characters and how solidarity is important to achieve a real access to potable water all over the world.
The tale can be downloaded for $0.99 and the funds raised will support the project Gotas para Niger, which, according to United Nations is the world's second poorest country, and has some of the worse indicator of child survival, health, education and water and sanitation.
Drops for Niger
Liverpool and Spanish Football Team player, Pepe Reina, has been the face of "Drops for Niger", a project from the educational UNICEF Spain's program Enrédate. Reina's image appears in educative materials of the project, and he has also encouraged students to participate in school races in support of UNICEF Child Survival programs in Niger.
Reina reinforces with this initiative his commitment in promoting programs of United Nations Children's Fund, UNICEF.
The launch of Cucho`s drop of water takes place in the Africa Day, when UNICEF highlights the main problems that affect the continent: poverty, problems of water access, conflicts, HIV/AIDS, and violence, which are specially worrying in the Sahel, where 1 million children are at risk of death from severe malnutrition.
Video featuring Pepe Reina making Cucho's drop of water.
About UNICEF
UNICEF works in 190 countries and territories to help children survive and thrive, from early childhood through adolescence. The world's largest provider of vaccines for developing countries, UNICEF supports child health and nutrition, good water and sanitation, quality basic education for all boys and girls, and the protection of children from violence, exploitation, and AIDS. UNICEF is funded entirely by the voluntary contributions of individuals, businesses, foundations and governments.
PlayTales is a wholly-owned subsidiary of Genera Interactive, an internationally based, award winning application developer with offices in USA, UK, Spain, Romania, and China. Founded in 2010, PlayTales develops and distributes interactive playable storybooks for children within the world's leading children's bookstore app for Smartphones and Tablets. PlayTales is a multiplatform, multinational and multilingual service that targets leading platforms such as Apple, Android, Blackberry Playbook, Nook, Kindle Color, among others.