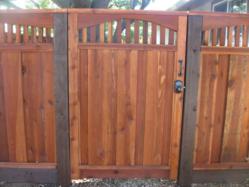 A fence needs strong posts and so does a fencing company
Pleasanton, Ca (PRWEB) October 31, 2012
Reuben Borg Fence and Decks in Pleasanton, Ca has over 15 years of experience installing and repairing Bay Area fences, decks and retaining walls. This Tri-Valley fencing company specializes in residential and commercial fencing needs using redwood, vinyl, chain link and ornamental iron. Reuben Borg Fence is also Pleasanton's premier builder of decks, arbors, retaining walls and trellises.
Customers love working Reuben Borg Redwood Fence Company because they take a consultative approach while conducting their free estimates. These Pleasanton fence contractors listen to your needs and wishes while utilizing years of experience to offer an economical solution with various options.
Understanding the current economic conditions Reuben Borg Fence and Decks of Pleasanton will beat any fence company's bid by 5% up to a discount of $500 for the remainder of 2012. The fence company must be licensed and insured. A copy of the competitor's 2012 estimate must be submitted to Reuben Borg Fence.
Here are a few consumer tips prior to selecting a fence and deck contractor in the East Bay.
1. Plan ahead, the average process from design to build for decks can be a few months.
2. Research each fence and decking design and installation company for stability.
3. RBF recommends visiting selected companies past projects that range in age to see how well their construction holds up.
4. Ask for at least three references of customers that have had work done by your selected company. Ask those customers if they felt the job was done in reasonable time based on what the contractor told them, once construction started.
5. Some of the highest quality materials for decking include Cambara, Ipe Ironwoods, GeoDeck, Trex, Correct Deck and WeatherBest. To name a few.
6. When comparing estimates, make sure each one is based on: (a) same scope of work, (b) same set of specifications, (c) the same set of plans. If the contractor suggests deviations, ask that they be presented as options.
7. A contractor should be able to tell you what products and materials they would like to use for the project. They should also offer you several options (when applicable) when selecting products, materials and techniques.
8. Be sure that the contractor agrees in writing that all work will conform to city, county and/or state building codes.
Reuben Borg Fence represents the Bay Area's best choice for all your fencing and outdoor projects. This Pleasanton fence, gate and deck contractor has been licensed and bonded since 1998. We serve customers in all areas of the Greater East Bay, including San Ramon, Pleasanton, Livermore, Dublin, Blackhawk, Alamo, Danville, Walnut Creek, Concord, Oakland, Fremont, Moraga, Orinda, Martinez, Hayward, Lafayette and more. Our goal, however, is not just simply to build fences, but also to build relationships that enthusiastically recommend Reuben Borg Fence to their friends and neighbors.
Reuben Borg Fence
Pleasanton, Ca
925-984-0778