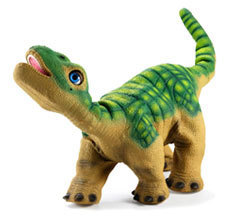 We'll be announcing the new 2010 Pleo models at CES in January
Carson City, NV (PRWEB) November 23, 2009
The Pleo robotic dinosaur is back! Just in time for the holidays, PleoWorld.com has relaunched under new ownership and with new plans for the lovable dinosaur pet in 2010.
In case you didn't hear: In 2008, Pleo was stuck in a tar pit. Ugobe, the company that created and sold the Pleos, went bankrupt. Derek Dotson, one of the original creators from Ugobe, encouraged Jetta Industries (who manufactured the Pleos) to bid for the Pleo rights. They set up Innvo Labs Corporation to do so.
Innvo Labs won the bidding, rescuing the little pet dino. Now they had improvements to make. The PleoWorld website needed to go back online.
"We intended on the site being the place where Pleo owners, and those who dream of being a Pleo owner, can go and explore," said Derek, now President of Innvo Labs. "It's Pleo's world. A place to learn about Pleo and his capabilities. And to have fun."
Derek contacted PlanetMagpie, a San Jose web development firm who'd worked on the PleoWorld website before, to rebuild it. Its look and feel remained the same, but it now included updated ecommerce and international shipping capabilities. So customers could order Pleo and his accessories worldwide.
It's not just PleoWorld.com that's undergone changes however. Pleo is new and improved too. The dinosaur has several improvements in its 2009 version in order to make it a more memorable, more enjoyable robotic pet.

Longer-lasting paint that stays colorful
More durable skin, so it won't wear out from you petting him
Biodegradable packaging
And a better battery charger, so Pleo can play longer
Many retailers still carry the original Pleo. But to get the 2009 Pleo version, you'll have to visit PleoWorld.com.
Innvo Labs hopes to rebuild the PleoWorld customer base with this new site. And by offering specials and discounts exclusively to current Pleo owners. "Our hope is that by receiving these specials, they'll come back to PleoWorld. We have also started the Reincarnation Program, which allows you to upgrade to a new Pleo at a discount. Just our way of saying thanks."
So what's next in store for Pleo? "We'll be announcing the new 2010 Pleo models at CES in January," said Derek. "You'll be able to see features on the new products on our site."
PleoWorld: http://www.pleoworld.com
# # #