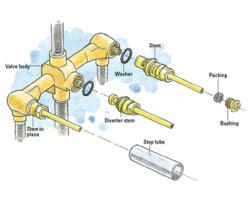 Which side up? Female threads must point down, unless plastic inserts are reversed (shower for tub and tub for shower). Single-hole valve assembly will have an up arrow that must be obeyed. It can be tricky!
Pittsburgh, Pennsylvania (PRWEB) August 21, 2012
"When installing any tub and shower faucet," according to Bob Beall, president of Mr. Rooter Plumbing Pittsburgh, " make sure to have the right side up." According to Mr. Rooter, "There are four fitting holes arranged in cross shape–two for the incoming water, one for the shower head and another for the tub spout." Fortunately, all there is to do is to look on the faucet–it will indicate the proper direction for placement. In the photo to the right, note that the tub output is different than the shower output–they cannot be exchanged. Point the shower output up.
"A three-handled tub/shower faucet can lend a nostalgic design element to your bath," says Beall. "Like two-handled models, these faucets need a spacer on the rear of the finished wall to keep the handles from protruding excessively into the tub or shower stall." The thickness of the spacer will depend on the interior space in the wall, according to the most referred plumber in the Northeast Ohio and Southwest Pennsylvania region.
Tip #1 A three-handled unit requires essentially the same steps as a two-handled faucet. Measure the length of the valve bodies.
Tip #2 Cut a spacer of the right thickness and fit it with holes for the three-handled unit.
Tip #3 Fasten the faucet body to the spacer; insert plugs or adapters; depending on whether the tub, shower, or both will be used.
Tip #4 Some faucets come with a plug for shower-only installations, others do not. If it's not supplied and one becomes necessary, get a 1/2-inch brass or galvanized plug, and screw it in the output that goes to the spout. For tub/shower installations, install male adapters made for the water-supply pipe being used, PEX is a good choice. Typically, drill the wall at 0 inch, 4 inch and 8 inch to accommodate the three elements that stick through the wall.
Tip #5 Remember to make the holes 1/4 inch larger than the valve diameters.
Tip #6 Slide the faucet in, using silicone rubber to glue the spacer to the back of the wall, attach the escutcheons.
Tip #7 Install the handles, and connect the water supplies.
Mr. Rooter's Daily Tips are provided by Mr. Rooter Plumbing.
Subscribe today! (top right corner)
There's A Reason They Call Us Mr.™
Check Out Our Premiere Sponsorship With Froggy 103.5!
Jason Aldean concert and Froggy 103.5
We are celebrating by offering you great coupons!
Remember: Mr. Rooter Plumbing is home of the FREE second opinion and the $95 Drain Cleaning!
Help Mr. Rooter Help Landon with less than 65 days left to our campaign!
Landon O'Hara Campaign
Mr. Rooter Plumber, 22, Fatal Accident: Leaves Behind Son
Debra Santavicca PR, SMM, WebIT
Mr. Rooter Media Center
724-553-9510
http://www.mrrootermedia.com
http://www.rooter2.com