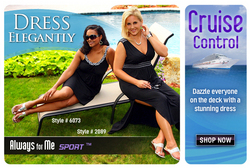 In today's economy, reports Barone, plus size buyers wants fashions that are versatile, multifunctional and travel well.
Hauppauge, NY (PRWEB) December 17, 2008
Leading online retailer of plus size swim wear, cover-ups, lingerie and active wear, AlwaysForMe.com, has announced the debut of a new plus sized dress collection under their Always For Me Sport design label, effective December 15, 2009. The collection will offer plus size dresses in a variety of styles, lengths and fabrics. AlwaysForMe.com founder, Susan K. Barone, reports that despite an uncertain market, plus size buyers continue to spend for fashion forward designs in sizes 16W-26W.
The new line of dresses, Always For Me Sport, is designed to compliment AlwaysForMe's existing line of plus size cover-ups. The dress collection will offer more design details, dress fabrics and a variety of lengths. These plus size fashion dresses are the perfect addition, to AlwaysForMe's collection of plus size swimwear and resort wear. "In today's economy, reports Barone, plus size buyers wants fashions that are versatile, multifunctional and travel well." "The Always For Me Sport collection offers plus size dresses that move easily from sunrise to sunset and that can be worn over a bathing suit - or by themselves as a stand alone dress look."
The Always For Me Sport plus size dress collection mirrors 2009's trends in color, necklines, Grecian accents, eye-catching details, and longer lengths:
LONGER LENGTHS- The [Evening Magic Long Dress Style#802 offers a floor length plus size dress with eye catching rhinestones and rosettes running down the front. Fashion forward and trendy, these beautiful gowns are perfect for formal evenings, as well as garden parties.
DETAILS- Flight of Fantasy Sequin Tank dress Style #9041 makes use of today's hottest animal print: peacock, and really makes it strut with sequins throughout. With a subtle touch of bling, the Gold Bead Embellished Empire Waist Dress Style #2810 offers gold seed beads at its neckline and shot through the bodice, of this gorgeous plus size dress.
GRECIAN INFLUENCE- The Aquarius V-neck plus size dress Style #2809 offers intricate embroidered detail at waist and shoulder, in contrasting black and white, sure to be a plus size fashion favorite. With a deep v-neck front and back, this dress will be cool and comfortable.
NECKLINES- The black and white braided scoop neck sun dress Style #6073 sports a braided neckline that transform into a colorful strap detail in the back. The elegant Waterfall Bandeau dress Style #15289W offers a travel friendly fabric and "waterfall" bandeau neckline that cascades down the center of the dress for a figure flattering style.
COLOR- Always for Me Sunrise plus size long dress Style #801 combines 2009's color trend with longer length in a ruched bandeau in sunny yellow with playful rosettes "blooming" down the front. The dress can be worn with or without the strap for two great looks.
htttp://AlwaysForMe.com is a leading online retailer of plus size swimwear, active wear and lingerie. Founded in 2000 by Susan Barone, a successful apparel industry executive, AlwaysForMe.com serves the needs of an estimated 65 million women who wear a size 14 and larger. For more information on Always For Me, Inc. please visit our website at http://www.AlwaysForMe.com, or call toll-free, 1-888-287-8941.
###