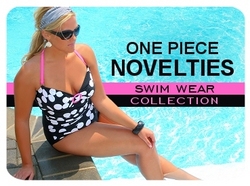 We view our relationship as collaborative
Hauppauge, NY (PRWEB) February 27, 2008
Can plus-size swim wear be trendy and fashion forward? Online retailer and designer of plus-size swimsuits, http://www.AlwaysForMe.com, answers that question with a resounding "Yes!", with its Always For Me Chic Collection for 2008. Always For Me Chic redefines swim wear design for plus-size women by adapting trends in the junior and petite markets to fuller figures. By interpreting market trends in subtle and sophisticated ways and incorporating charming and functional details into their designs, AlwaysForMe.com has made their own Always For Me Chic Collection of plus-size bathing suits a best-seller.
The reason for the success of all three Always For Me designer labels: Always For Me Chic, Always For Me Sport, and Always For Me In Control, lies in the relationship the e-tailer has with its customer base. "We view our relationship as collaborative", offers longtime garment industry executive Susan Barone, founder and CEO of Always For Me, Inc. "We know what women want in a plus-size swim suit because they tell us. Our customers love to share their expectations about the features and fit that flatter their figures. We take their feedback and combine it with our own expertise in merchandising and design. It's not surprising that our feedback-created resort wear is among our most popular. Barone adds, "AlwaysForMe.com has the kind of personalized service and girlfriend-to-girlfriend rapport that creates trust rather than just transactions".
Thus far in 2008, one of AlwaysForMe.com's most popular plus-size swimsuits is the newcomer, Ocho Rios (pictured here). Taking advantage of the seasons most popular trends, this novelty one-piece offers a 1960's retro dot print accented with touches of flirty, fun pink at the neckline and bust. It offers all the contour and control that plus-size swim wear buyers expect, but with youthful styling not often seen in the 16W-26W category. Buyers have dubbed Ocho Rios the "illusion suit", since it flatters the face, minimizes the waist, elongates the torso and lengthens the leg.
Another example of pattern and style that defy convention in women's plus-size swim wear is AlwaysForMe's black and white gone mod two-piece skirtini in the hottest colors of the season: lime and coral pink. With its decorative detailing, short skirt and deep neckline, this two-piece swim suit adds a modern twist to a classic style.
Where prints were once feared by full-figured femmes, they are now in demand for their ability to fool the eye and flatter the figure. "Our plus-size resort wear goes from pool to patio and dock to dining room." says Barone. "So it must be fashionable and multi-functional". The one-piece skirted bandeau in a sophisticated St. Lucia print has a shirred bodice to define the waistline and a bandeau neckline to frame the face. The twist front top works for both a full and smaller busted woman with detachable straps to allow for seamless sun tanning. The shirred sides on this suit create a curvy silhouette while a full mesh panel down the front contours and controls. With drop waist coverage, this flirty skirt floats prettily over the tops of the thighs.
AlwaysForMe.com is a leading online retail site for plus-sized swimwear, active wear and lingerie. Founded in 2000 by Susan Barone, a successful apparel industry executive, AlwaysForMe.com serves the needs of the estimated 65 million women who wear a size 14 and up. In less than ten years, AlwaysForMe.com has grown 10-fold to become the #1 destination website for women around the world who prefer to shop from the comfort of their desktops from a selection of name brand designers and/or AlwaysForMe's own design collections. For more information on AlwaysForMe.com please visit http://www.AlwaysForMe.com , call toll-free: 1-888-287-8941, or contact Nannette Fevola at 631-237-4881 extension 309.
###