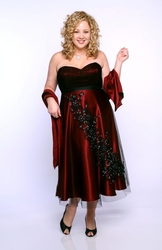 The Hollywood influence promises to steal the spotlight again this year
St. Louis, MO (PRWEB) March 11, 2008
For Prom 2008, girls just want dresses that provide an excess of fun. You'll see everything from playful polka dots on curve-hugging mermaid designs to short, sassy prom dresses that show off lots of leg, says Phyllis Brasch Librach, president and founder of Sydney's Closet, a specialty retailer selling plus size prom dresses online at http://www.SydneysCloset.com and at a retail store in St. Louis, MO. Librach shares these 10 top fashion trends for 2008 Prom dresses:
1) Keep on Shining: The metallic trend sparkles with shimmer fabrics in classic gold and silver as well as fresh, frosty colors like raspberry. "Metallic fabrics with crinkle create instant luster perfect for a night as big as Prom," says Librach.
2) Gem of a Color: Look for brilliant jewel tones to bring a bold vibrancy to Prom 2008 dresses. "Deep rich hues like amethyst, sapphire, garnet and emerald add richness and sophistication to any style Prom dress," says Librach.
3) Pass on the Pastels: Girls know there's no easier way to get in the party mood than to slip on a dress packed with the powerful punch of bright colors like fuchsia, turquoise and sunset orange. "Pastels continue to be very passé for Prom 2008," says Librach.
4) Show off Your Curves: Teens love a sexy prom dress and that makes the form-fitting mermaid silhouette a sleek and chic choice for Prom 2008. "Prom dresses designed with a close fit through the body that flair from the knee are in big demand," says Librach.
5) Pleats Please: What's new? Prom dresses with lots of soft folds in the fabric - often pressed down to create texture. "Pleats promise an oh-so-grownup fashion flair and a classic look borrowed from the elegance reminiscent of Greek goddesses," says Librach.
6) Hello Hollywood: Celebrity-inspired long formal dresses take center stage for Prom 2008 as some schools literally roll out the red carpet and invite parents and friends to line the carpet snapping pictures. "The Hollywood influence promises to steal the spotlight again this year," says Librach. "Teens want to look as glam as their favorite celebrities when the super stars dress up for the cameras."
7) Prints Charming: Romantic florals, playful polka dots and wild animal patterns promise to be popular with girls eager to skip the safety of solid colors. "Prom dresses in bold prints offer a very sophisticated look for the teen-age girl who has the confidence to stand out in a crowd," says Librach.
8) Short and Sweet: Look for as many as one in every five teens to wear a short Prom dress in 2008. "Teens love the fresh, flirty look of a cocktail dress," says Librach adding: "It's makes dancing easy, and she gets to wear her 2008 Prom dress again."
9) Details that dazzle: Beads, sequins and metallic trim catch the eye when clustered in bands on the waist, bodice and shoulders of Prom 2008 dresses. "A little bling, bling in the right place goes a long way to make an important fashion statement," says Librach.
10) Back and forth: There's strong interest in Prom dresses that look sexy coming and going with oh-so-low backs or eye-catching details like sequins and metallics. "Stricter dress codes mean no bare midriffs and plunging necklines, so a low back makes for a sexy prom dress while still meeting most dress codes," says Librach.
Sole searching: Teens step out in style wearing sexy peep-toe pumps dressed up with glitter in gold, silver or multi-color for a glam look borrowed from footwear pin-up girls favored in the 1940s. Look also for the super sensible trend in prom shoes getting a big boost from Hollywood stars of today like Charlize Theron and Uma Thurman: two leggy Hollywood beauties photographed wearing simple flats with long formal dresses.
"For Prom 2008 shoes, the big bet is on metallic flats as a super comfy choice from the first photo to the last dance," says Librach.
Makeup: For Prom 2008, teens want to coordinate makeup colors to match their dress, says make-up artist Jennifer Kalman creator of QDazzle®. "It's perfect for that special night when an extra dazzling makeup look is essential: sparkling eyes, glossy lips and blushing cheeks in colors that complement their dress," says Kalman adding: "Teens eager on stealing the spotlight go for super-fun extras like eyelashes with crystals and All-Over Shimmer Powder."
Sydney's Closet, a specialty apparel retailer online at http://www.SydneysCloset.com and with a store in suburban St. Louis, caters to teens and women shopping for plus size dresses to wear to once-in-lifetime special occasions: Prom, Homecoming, Weddings, Military Balls, Formal Dances, Cruises, Reunions, Holiday parties and family celebrations. Sydney's Closet stocks dresses in hard-to-find sizes 14 to 44 by major brands as well as a private label collection of Sydney's Closet Exclusive designs.
Contact:
Phyllis Brasch Librach
President & Founder
Sydney's Closet
http://www.SydneysCloset.com
Phone: 314-344-5066
###