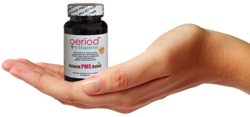 If women suffer from bloating – Period Vitamin has calcium, Vitamin B-6 and more to control bloating.
Los Angeles, CA (PRWEB) March 27, 2013
The makers of Period Vitamin, an herbal PMS supplement, say women searching for real relief from PMS symptoms have to look no farther than the findings of recent scientific studies to discover it.
"Study after study is showing that ingredients found in herbal PMS supplements like Period Vitamin really do offer relief from PMS symptoms," said Uka Tumur of Period Vitamin.
Ingredients found in Period Vitamin include:

Evening Primrose
White Willow Bark
Red Raspberry
Black Cohosh
Cranberry
Wild Yam
Cramp Bark
Damiana
Dong Quai
Calcium
Magnesium
Iron
Vitamin C
Vitamin E
Vitamin A
Vitamin B1
Niacin
Pantothenic acid
Vitamin B-2
Vitamin B-6
Vitamin B-12
Folic acid
Vitamin K-1
Examples of recent studies that show the effectiveness of these ingredients in alleviating PMS symptoms, include:
In "Herbs of Special Interest to Women," researchers recently determined that evening primrose, chasteberry and black cohosh were all reasonable treatment alternatives for women with PMS. ncbi.nlm.nih.gov/pubmed/10730024
In another recent study, chasteberry was determined to be an effective and well tolerated treatment for the relief of symptoms of mild and moderate PMS. ncbi.nlm.nih.gov/pubmed/22359078.
In a 10-year study conducted by The American Journal of Clinical Nutrition, women in the top 20% of Vitamin B2 consumption were 35% less likely to develop PMS than those in the lowest 20%. ajcn.org/content/93/5/1080.abstract?sid=5d44e34e-ea66-43d3-b475-1cf999b1ac5c
In a study recently published in the American Journal of Epidemiology, researchers from University of Massachusetts at Amherst and Harvard University discovered that women who consumed iron in the form of supplements or from plant-based foods were 30 to 40 percent less likely to develop PMS later in life.
"Nowhere else can you find all of this natural PMS fighting power in one inexpensive, high-quality supplement," Uka said. She went on to offer the following examples of the symptom relieving ability of Period Vitamin.
If women suffer from cramps – Period Vitamin has red raspberry, black cohosh, cramp bark, dong quai, calcium, magnesium, niacin, vitamin B-6 and much more all acting to eliminate cramps so that you don't have to worry about feeling their painful effects any more.
If women suffer from fatigue – Period Vitamin has Vitamin B-12 and Damiana and more acting to boost your energy and make you feel even better than you did before you had your period.
If women suffer from heaving bleeding – Period Vitamin contains red raspberry and Vitamin K-1, along with other ingredients that act to reduce blood flow and promote clotting.
If women suffer from bloating – Period Vitamin has calcium, Vitamin B-6 and more to control bloating.
If women suffer from irritability and mood swings – Period Vitamin has Wild Yam, Damiana, Pantothenic Acid and more to balance your hormones and promote feelings of well-being.
If women suffer from breast tenderness – Period Vitamin has white willow bark, Vitamin B-6, Vitamin A and more to help reduce tenderness and other pain associated with PMS.
If women suffer from loss of sexual desire – Period Vitamin contains Damiana and other natural libido boosters.
More information is available at http://www.periodvitamin.com.
ABOUT PERIOD VITAMIN
Period Vitamin was created in January of 2008 by manufacturers looking to create a vitamin that provides women with the nutrients they need to have a balanced vitamin intake and combat the causes of PMS. Working with natural ingredients, they formulated a product that can address the causes of PMS and found the right combination of all natural ingredients to fight those changes in the body. By looking at the causes of PMS from a scientific standpoint, the makers of Period Vitamin found that hormone fluctuations were the root cause of PMS symptoms. The answer was to start with each symptom and address which hormone change caused that symptom and then finding a natural ingredient to counterbalance the hormone change. All ingredients in Period Vitamin are natural and the completely safe formula does not contain a single preservative or synthetic ingredient.