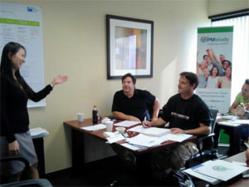 PMstudy holds PMP training boot camp and classes in 150+ cities across the United States and Canada
Phoenix, AZ (PRWEB) March 14, 2013
The rapid growth of its workforce has prompted PMstudy, a brand of VMEdu, Inc., to more than double its Phoenix office space by moving to a new facility. As they prepared for the move, Ruth Kim VP of Academics said, "We need more room for the new staff we have and those that we will be hiring over the next 18 to 24 months."
PMstudy is a brand of VMEdu, Inc., a PMI® approved global Registered Education Provider, specializing in providing project management training and preparing students for the PMP Certification Exam. Experiencing growth similar to PMstudy's, VMEdu, Inc. opened a new office in Germany in 2012 offering PMP Exam and PRINCE2 training and thereby capitalizing on expanding European markets. The US and European growth of the company has been attributed to its success in providing quality Project Management Professional training; students of its PMP exam prep classes have achieved an industry leading 98.7 percent passing rate for the Project Management Institute's (PMI) Project Management Professional certification exam. PMI's PMP certification is known and respected around the world "with more than 650,000 members and credential holders in more than 185 countries," according to their online site at pmi.org. PMstudy has trained more than 125,000 of those holding PMP certifications in 150-plus countries and 3500-plus companies.
PMstudy values its student feedback, such as "I'm pleased to report that I am officially PMP Certified. The PMStudy boot camp I attended was successful," from Katherine Pruzan, PMP and "Thank you for your great course, great support, rapid response and excellent service," from Jeff Kallmeyer, PMP. They even post some on their website that might seem a bit equivocating, such as "Hi, Your course for PMP certification is economical. This course, along with other material allowed me to get the PMP certification. Thank you," from Sreedharrao Rainutala, PMP. The favorable student responses to the company's PMP exam prep classes have earned it a 94 vendor satisfaction rating from Dun & Bradstreet.
Favorable student feedback does not come as a big surprise, when one considers how the company sees its role in each student's professional life, "based on years of experience in delivering effective PMP training, we have designed our courses to not only assist in certification, but also to empower with best practices. We achieve this by providing a unique blend of concepts, case studies, and role-play simulations that guarantee our students know how to implement project management in their organizations. This is certification preparation plus."
PMstudy also offers exam prep for PMI's Certified Associate in Project Management (CAPM) certification exam. According to PMI, "professional certification ensures that project managers are ready to meet the demands of projects across the globe." PMstudy plans to continue helping project management professional earn their PMP certification in their new offices, which "will also include a studio where we will be filming state-of-the art videos for our new training model," says Kim. The more spacious accommodations will help the company with "hosting more classes, faculty trainings and more." Currently, PMstudy holds PMP Boot Camp and classes in 150-plus cities across the United States and Canada.
The ability to host more classes in their own offices will increase the flexibility that VMEdu is known for. In addition to the classes they host in upscale hotels and conference centers, PMstudy offers onsite training where students can learn in a familiar environment. With corporate classes PMstudy offers the opportunity to customize individual PMP courses to suit the needs of the organization based on their schedule and unique industry context. The company also offers an Authorized Training Provider model in which corporations can leverage their own employees to teach PMP courses utilizing PMstudy's proven methodologies and materials. American Express has adopted this highly scalable model to train its more than 1,000 project managers. Another added value to PMstudy courses is that completion of the pre-class online PMP exam prep materials can earn a student up to 40 PDU's toward meeting the continuing education requirements of their PMP certification.
PMstudy and VMEdu have created important technological advances for delivering PMP certification training, becoming a winner of the 2012 Global Top 100 Red Herring Award for technological innovation. The Red Herring 100 Awards are widely recognized as a prestigious recognition and a mark of distinction identifying emerging companies and entrepreneurs. Red Herring editors were among the first to recognize that companies such as Facebook, Twitter, Google, Yahoo, Skype, Salesforce.com, YouTube, and eBay would change the way people live and work. VMEdu, dba Edusys, is also a past winner of the Deloitte Fast 50 award. Deloitte's Fast 50 website says, "The program recognizes companies across the technology landscape who with their innovative business models, technological superiority and quality of human resources have managed to ride the wave of economic growth whilst being resilient in the face of economic downturns."
Much of VMEdu's recent growth has been funded by Sequoia Capital, the company that funded many global companies such as Apple, Google, PayPal, LinkedIn and YouTube. The funding has helped VMEdu in successfully launching Scrumstudy.com, a website targeting scrum and agile certification courses. Recently, VMEdu has also forayed into IT certifications domain, providing ITIL, Microsoft & CompTIA certifications, under a new brand name MyITstudy.com