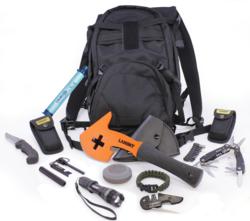 Buffalo, New York (PRWEB) March 26, 2013
Lansky Sharpeners, a world leader in innovative sharpening technology, adds another landmark to their ever expanding product line with the release of the new Tactical Apocalypse Survival Kit (T.A.S.K). The T.A.S.K. was designed by Lansky Tactical as an all-in-one solution for a disaster scenario.
The tools in the T.A.S.K. were selected to handle a variety of situations including defense from hostiles, escape from dangerous circumstances and survival during a variety of urban collapse, natural disaster or apocalypse scenarios. The tools included in the T.A.S.K. are the multifunctional Firefighters Battle Axe™, Easy Grip Knife, 20 Function Multi Tool, Blademedic™ Knife Sharpener, the Puck™, Tactical Flashlight, Paracord Bracelet, Firesteel/Compass combination , survival guide, Lifestraw® water purification system and it all comes packaged in a 20L Tactical Backpack.
The T.A.S.K. was developed with the idea of a tool kit in mind. The bag's convenient size makes it easy to store in the car, at home or in the office. The T.A.S.K. also doesn't include any of the subpar survival supplies many 'Bug Out Bags" on the market have. Instead the T.A.S.K. gives the user the option to supplement the TASK with their favorite survival foods and personal effects to customize the T.A.S.K. for their personal use. Even if you don't supplement your T.A.S.K., just by itself the T.A.S.K. gives you the ability to "get out of dodge" quickly and the included survival guide covers acquiring the three essentials: food, water, shelter and much more. With a combination of these tools, and some common sense a person should be able to handle a variety of unexpected survival/collapse situations.
About the Company:
Lansky Sharpeners is the most recognized name in knife-sharpening worldwide. In addition to their legendary Controlled-Angle Sharpener System, they continue to develop new sharpening technologies and innovations for hunting and outdoor sports, kitchen use, as well as the workshop. They are known for their hunting knife sharpeners and precision sharpening kits. Visit their Online Store to view their ever-expanding line of great sharpening products. For more information visit their website at http://www.lansky.com.