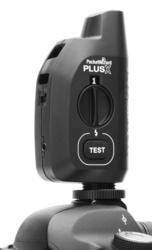 Introducing the PocketWizard PLUS X Transciever: An extraordinary value in radio triggering—the perfect choice for wireless photographers.
New York, NY (PRWEB) March 01, 2013
PocketWizard Plus X is the perfect choice for both entry level wireless photographers and current PocketWizard Plus II owners. Auto-sensing Transceiver technology and large, backlit channel dial make the Plus X the simplest PocketWizard ever. It is compatible with every PocketWizard FCC-version radio marketed in the USA and virtually every popular flash and camera system.
The Plus X also works with all PocketWizard-enabled studio flash units including select Profoto, Dynalite, Norman and Photogenic flashes as well as Sekonic light meters.
The famous NYC-based Photo and Video Super Store, B&H, has announced that it is now offering the new PocketWizard Plus X Transceiver.
10 Standard Channels
The Pocket Wizard Plus X features 10 standard channels for use to provide greater availability when working amongst other photographers or for greater control over complex lighting situations. These channels are compatible with all other PocketWizard of the same frequency.
Backlit Channel Dial and Status Indicator
An analog dial is used to quickly and easily switch between the 10 available channels. A full-time amber backlight is used to illuminate the selected channel for convenience and greater visibility when working in dimly-lit conditions. A tri-color LED is also incorporated into the design and provides a visual means for gauging the Plus X' battery life and when it is sending or receiving a transmission.
Internal Antenna
The internal antenna provides greater durability and eliminates the possibility or bending or breaking it during use. It also produces a more streamlined appearance when in use, and corresponds well to the side-profile design to create an overall visually unobtrusive look.
Simplified Connectivity
The transceiver is easily attached to most cameras through the hot shoe, with no extraneous cables required. For attaching to remotes and lights, there is an all-in-one sync port for wide compatibility.
Cables are included for attaching from miniphone-to-miniphone, miniphone-to-phono, and miniphone-to-PC sync for cameras without a hot shoe. It is also compatible with all PocketWizard transmitters and receivers (of the same frequency) as well as PocketWizard-enabled lighting and metering equipment.
Auto-Sensing Transceiver
The Plus X is automatically set to intelligently and instantly switch between transmitter and receiver modes for the greatest amount of flexibility. You can also manually override this function and choose to have it act as a dedicated transmitter only, which will cancel its ability to receive or relay signals.
Auto-Relay Mode
When using 3 PocketWizard radios; one can remotely trigger a camera to fire and trigger a flash simultaneously. Utilizing the Auto-Sensing technology, the transceiver mounted to the camera can instantly receive a signal from an auxiliary transceiver, and then instantly convey the transmission to a remote flash. This provides a simplistic and highly efficient remote workflow.
Range and Sync Speed
When used in ideal conditions, this transceiver is capable of producing and receiving a signal up to 1600' away. It supports sync speeds up to 1/250 sec. with focal plane shutters and 1/500 sec. with leaf shutters with a maximum triggering speed up to 14.5fps. .
Important PocketWizard Plus X features include:

Auto-Sensing Transceiver – Easy to use.
10 Channels – 1-4 Classic plus 5-10 low-traffic channels
Backlit Channel Dial – Easy to set channels in the dark
Internal Antenna – Compact, more rugged design
Auto-Relay Mode – Trigger remote camera and flashes simultaneously
Transmit Only Mode – Positive operation in large groups
Side View Design – Better subject view on camera
PocketWizard reliability – PocketWizard compatibility
Read and learn about the PocketWizard Plus X Transceiver at BH InDepth
About B&H Photo Video
As the world's largest source of photography, video and audio equipment, B&H Photo-Video is known worldwide for their attentive, knowledgeable sales force, and excellent customer service, including fast, reliable shipping. Visitors to the website can access a variety of enlightening articles and educational videos. B&H has been satisfying customers worldwide for close to 40 years.