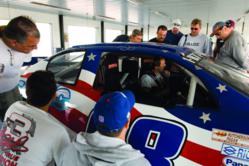 The Pocono Mountains region is the destination of choice for those who want to have a great adventure that they can share with their friends and family.
Pocono Mountains, PA (PRWEB) March 05, 2013
Bucket lists have evolved from climbing Mount Kilimanjaro and the Great Wall of China to participating in professional sports and free falling through gravity. It was once expensive to travel the world to cross an adventure off of one's bucket list, making it nearly impossible to complete the list. Now there's no need for a passport, just a few days in the Pocono Mountains (800poconos.com).
"With 2,400 square miles of rolling mountains and breathtakingly beautiful landscape, the Pocono Mountains provides the perfect backdrop for thrilling escapades and heart racing adventure," said David West, vice president of marketing for the Pocono Mountains Visitors Bureau. "The region is the destination of choice for those who want to have a great adventure that they can share with their friends and family; whether trying ziplining for the first time or experiencing an Olympic Luge, it's a cross-off the bucket list affordable, adventure."
Here are some of top activities for your adventure list:
1. Pocono Raceway, home to the infamous "tricky triangle", offers a Stock Car Racing experience. Spectators become drivers as they get behind the wheel of a 600 horsepower Sprint Cup style stock car. The car reaches up to 160 miles per hour allowing drivers to feel the rush that until now was only known in the racing world.
2. Plunge down a 2,000 foot Ice Luge at Blue Mountain Ski Area. This is the only all natural East Coast USA Luge Track and is an official training and recruiting site of the USA Luge team. Lugers will feel the wind in their face and their hearts race as they twist and turn down more than 400,000 cubic feet of snow. There's even a chance to be scouted by official USA Luge coaches.
3. It is possible to drive a team of huskies while dog sledding through the Pocono Mountains. Skytop Lodge allows guests to drive a team of dogs that have run the Iditarod. Dry land dog sledding is also available in the summer. The same first class team of dogs guides the journey with a golf cart.
There's more than one way to get a bird's eye view of the Pocono Mountains. Parasail on one of Pennsylvanian's largest manmade lakes. Soar above Lake Wallenpaupack's 52 miles of uninterrupted shore line. Switch from a parasail to a parachute to experience the rush of skydiving. Jumpers will experience the thrill of freefall from 13,500 feet above the Pocono Mountains. As the canopy opens, skydivers will float to the ground while enjoying the views of the mountains, the Delaware Water Gap and the New York City Skyline.
Fly down the mountain while ziplining. The zipline adventure at Kittatinny Canoes is over 3,000 feet long and goes over 50 miles per hour as it zips through and over trees 150 feet above the ground. Climb through the trees in the Tree Top Adventure course at CBK Mountain Adventures. The exhilarating obstacle courses are set in the natural mountain environment. Over 100 aerial obstacles are suspended between trees. The courses include ziplines, suspended bridges, scramble nets, swinging logs and much more.
The Leigh River Gorge provides a picturesque setting for a bike challenge. Pedal 25 miles through an abandoned railroad bed and follow the river to Leigh Gorge State Park. This scenic journey takes riders past fantastic rock formations, tumbling waterfalls and plentiful wildlife.
In the Pocono Mountains it is possible to go Pinzing for over 10 miles of rugged trails, riding along shear rock faces and taking a white knuckle ride into Hades Hallow in a Pinzgauer. Gain access to normally unreachable, limited access or unexplored terrains in a Pinzgauer, an all-terrain military vehicle that gives adventure seekers access to rugged terrains, hidden lakes and expansive vistas that are otherwise unreachable.
Come and play Skirmish, the largest paintball game in the world. Skirmish offers over 50 paintball fields on 700 acres of gamelands. Skirmish's "Invasion of Normandy" game was voted one of the "Most Manly Man Adventures" by the Travel Channel.
Along with these adventures offered throughout the year, the Pocono Mountains is home to many adventure-themed events. The Delaware River Sojourn is an eight-day guided paddling trip on the Delaware River. Participants will have the opportunity to canoe/kayak the entire Delaware River while setting up camp along the shores each night. The 18th Annual Sojourn is set for June 22-29, 2013.
The Big Day Out at Pocono Whitewater occurs most weekends April through October. The day begins with a mountain bike ride between the 1,000 foot walls of the Lehigh Gorge Rail-Trail to the famous Glen Onoko Falls. It continues with a hike through Glen Onoko Creek and its eight cascading waterfalls. From there adventurers will whitewater raft the bends and rolls of the Lehigh River. To accomplish the bike, hike and raft in one day will score any outdoor thrill seeker bragging rights.
For more adventure bucket list ideas visit Pocono Tourism's Pinterest page or search things to do on 800poconos.com.
About the Pocono Mountains
With 2,400 square miles encompassing Pennsylvania's Carbon, Monroe, Pike and Wayne counties, the Pocono Mountains region is home to rolling mountain terrain, breathtakingly beautiful waterfalls, thriving woodlands and 170 miles of winding rivers. Winters offer guests the opportunity to ski, snowboard, snow tube and even snowshoe their way through snowy wonderlands encompassing over 185 ski trails, while summers also cater to the active traveler allowing exploration of 261 miles of hiking and biking trails, over 30 golf courses, whitewater rafting, boating, fishing and open access to nine state and two national parks.
Any time of year is a good time to visit the Pocono Mountains, located within driving distance of most major East Coast cities. This region teeming with history offers year-round cultural tours and art exhibitions, abundant antiquing and brand-name shopping and a full calendar of festivals showcasing the heritage, music and food of the Pocono Mountains.
Even the most discerning traveler will find comfortable accommodations in the Pocono Mountains, which offers an eclectic mix of resorts, distinctive properties and quaint, country inns and bed and breakfasts.
Pocono Mountains visitor information is available online at 800poconos.com or by phone at 800-POCONOS (800-762-6667). Follow @PoconoTourism on Twitter to stay current with up-to-date information. Established in 1934, the Pocono Mountains Visitors Bureau is a private, non-profit, membership organization. The Pocono Mountains Visitors Bureau is the official destination marketing organization for the four counties of Carbon, Monroe, Pike and Wayne in northeastern Pennsylvania.