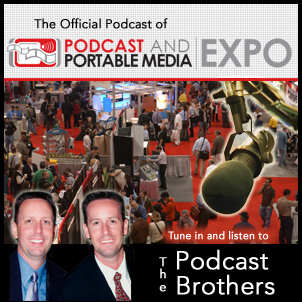 For listeners and viewers, the challenge is finding the content they want from all of the choices available
Mission Viejo, CA (PRWEB) August 25, 2006
The second annual Podcast & Portable Media Expo is well on its way to becoming the largest of its kind.
The conference, which was named Expo Magazine's Best New Show winner 2006, will take place September 29-30 at the Ontario Convention Center in Ontario, California. It will feature exhibits and conference sessions aimed at both corporate and individual podcasters. The success of the show is a testament to increased public and corporate interest in the emerging podcasting phenomenon.
"Last year, many people were still asking what podcasting was," said Tim Bourquin, founder and CEO of TNC New Media, producers of Podcast & Portable Media Expo. "This
year, everyone wants to know how they can get involved."
No longer seen as merely a hobbyist pastime, podcasting is rapidly gaining acknowledgment from the business community as a valuable communications and marketing tool.
"About half of the show's attendees will be independent podcasters," Bourquin said. "The other half will be from the corporate side who produce podcasts for their own company or for clients."
Registration numbers so far for the 2006 Podcast & Portable Media Expo are at 3,000 attendees and 85 exhibitors, up from slightly more than 2,000 attendees and 60 exhibitors last year. In addition, two of the three "official" hotels of the Podcast & Portable Media Expo are already sold out. The third is nearly full.
More content, more conferences
With the incredible growth in podcasting and portable video content, there are currently thousands of programs that cover a variety of niche and mainstream topics.
"For listeners and viewers, the challenge is finding the content they want from all of the choices available," Bourquin said. "For podcasters and other content creators, the challenge is
to stand out in an increasingly crowded space."
To help meet that challenge, Podcast & Portable Media Expo 2006 will offer an expanded range of conference sessions to accommodate the ever-growing and increasingly specialized podcasting market. Areas covered will include:
Corporate Podcasting
Video Podcasting
Media Partnerships
Marketing and Communications
Subscription Business Models
Advertising and Sponsorship Models
Product Placement Models
Distribution and Syndication
Licensing and Digital Rights
Industry-leading exhibitors
The show floor at the 2006 Podcast & Portable Media Expo will feature a broad range of both well-established and new, trend-setting companies. Expo sponsors include PodcastReady, Podango.com and Audible's Wordcast. Exhibitors include audio equipment manufacturers Sony, Shure, Samson and Marantz; software makers Adobe, Rogue Amoeba, TechSmith and Podcast Station; and RSS distribution and management company FeedBurner, among others. Microsoft and AMD will be sponsoring a blogger lounge. Limelight Networks is the Official Content Delivery Network. GigaVox is the Official Conference Audio Provider. Media Partners include The Mac Observer, iPod Observer, Videomaker Magazine and iProng.com. Although space is filling up quickly, exhibitors are still encouraged to apply.
For registration, exhibitor, and travel information, visit the Podcast & Portable Media Expo website: Podcast and Portable Media Expo.
About Podcast & Portable Media Expo:
Podcast & Portable Media Expo is a one-of-a-kind conference produced by show organizer and online media developer TNC New Media, Inc. TNC New Media 9http://www.tncnewmedia.com) produces unique niche events and online media in several industries including SmallBusinessPodcast.com, EndurancePlanet.com, and The Forex Trading Expo. Podcast & Portable Media Expo was named Expo Magazine's Best New Show winner 2006.
Contact:
Tim Bourquin
Founder/CEO, TNC New Media, Inc.
(949) 348-2590 ext. 15
http://www.PortableMediaExpo.com
###