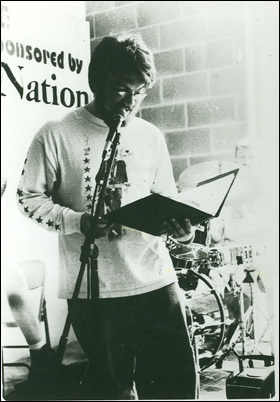 unique talent and artistic vision
Northampton, MA (PRWEB) August 15, 2006 -
Winning Writers is pleased to announce the results from its fifth annual Wergle Flomp Humor Poetry Contest. Nicholas Moore of Bloomington, Indiana won first prize and $1,190 for his spoof, "How to Write a Poem". Over 1,000 entries were received from around the world. $1,609 in total cash prizes were awarded.
The Wergle Flomp Contest dramatizes the low standards of heavily advertised free poetry contests sponsored by Poetry.com, Famous Poets Society, JMW Publishing, the League of American Poets, and similar enterprises. Winning Writers provides a list of these "vanity contests" and other contests to avoid.
Vanity contests typically praise most entries to flatter poets into buying expensive anthologies containing their poem, as well as personalized plaques, tote bags, silver cups, even tickets to conventions ($595 apiece) where enormous numbers of people receive "awards".
Vanity contests waste poets' time and money, and replace honest evaluation with empty praise that inhibits poets' development and mocks notions of excellence. When poets discover they've been gulled, many are shaken. As one Winning Writers reader said of her experience: "I...thought it was the greatest thing ever when I became a finalist. I also unfortunately purchased the book my poem is going to be in. That was a $60.00 lesson I won't soon forget. But the damage that they did was to make me unsure about my work."
Wergle Flomp is an alter ego of British poet David Taub, who submitted several works of gibberish and codswallop to Poetry.com some years ago. He earned "semifinalist" status for his "unique talent and artistic vision", and an offer to include his work in the anthology Promises of Love. Samples of Mr. Taub's work and Poetry.com's fawning praise can be found on our Wergle Flomp background page.
Inspired by the example of David Taub and other scam-fighters, Winning Writers offers prizes for the most absurdly, hilariously bad poems that have been submitted to vanity contests as a joke.
Jendi Reiter, editor of Winning Writers and judge of the Wergle Flomp Contest, said of this year's winning poem: "Nicholas Moore gleefully satirizes the stock figure of the Romantic Poet, complete with affected melancholy, obsessive love, alcoholic binges, and an ego far larger than his literary talents."
An excerpt from "How to Write a Poem" by Nicholas Moore:
To be a poet,
You have to drink like a fish,
By which I mean:
You should do it without any clothes on
--In the middle of a lake.
To be a poet,
First you will need
--A bottle of bottom-shelf whiskey.
Now I'm talking whiskey
That's so cheap
It was aged in a borrowed lunch box.
I mean the stuff that's so unstable
That it's on the bottom shelf because
If it's raised above waist level,
It turns into foam, screams like Fozzy Bear,
And travels back in time...
Jim Neill of Northampton, Massachusetts, received second prize and $169 for "Masculine Message from Damion McGraw," a poem composed entirely of junk email subject headers, artfully juxtaposed. Dakotah Burns of Louisville, Kentucky received third prize and $60 for "Like a Snow Day," a surreal, vaguely sinister poem that imagines several recent US presidents in peculiar situations. Five honorable mentions of $38 each were also awarded.
A total of $1,609 in cash was given away in this year's contest, making the Wergle Flomp one of the world's largest competitions for humor poems. Next year, cash prizes will increase to $3,336.40, including a top award of $1,359.
The Wergle Flomp Humor Poetry Contest is sponsored by Winning Writers. Submissions for the 2007 contest are accepted online from August 15, 2006 through April 1, 2007. There is no fee to enter. For more information, please see the Wergle Flomp guidelines.
About Winning Writers, Inc.
Winning Writers, founded in 2001 by Jendi Reiter and Adam Cohen, is today's leading source for poetry contest information. We have been selected as one of the "101 Best Web Sites for Writers" by Writer's Digest for two years running (2005 and 2006). Its online database, Poetry Contest Insider, ranks and profiles over 750 poetry contests. In addition to the Wergle Flomp Humor Poetry Contest, we also sponsor the War Poetry Contest, which will offer $5,000 in cash prizes when it next opens on November 15, 2006. Its free email newsletter offers news about free poetry contests and quality literary resources. For more information, please see the Winning Writers website.
###