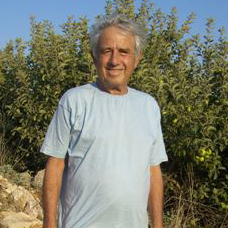 frolic together in a shady pool/beyond the last waterfall, teaching each other/how to pronounce 'jump', 'dive' and 'swim'/in Arabic and Hebrew
Northampton, MA (PRWEB) September 15, 2007
Tom Howard Books is pleased to announce the results from its fourth annual Margaret Reid Poetry Contest for Traditional Verse. Johnmichael Simon of Metulla, Israel won first prize and $1,000 for his poem "On the Border". Hundreds of entries were received from around the world.
Simon's poem eloquently blends compassion and outrage, portraying the diversity of people trying to live their ordinary lives, and even find moments of beauty and hope, in a war-torn Middle East. Despite his own generation's memories of the Holocaust and the centuries of conflict that the region has endured, the narrator can still dream of a time when Jewish and Muslim children will sneak across the border to "frolic together in a shady pool/beyond the last waterfall, teaching each other/how to pronounce 'jump', 'dive' and 'swim'/in Arabic and Hebrew".
The judges said, "It is difficult to make a political statement in a poem without appearing gauche, over-emphatic or unpardonably declamatory. Johnmichael Simon has risen to the challenge nobly. By writing three vividly visual impressions of life 'on the border' in poetic rather than newspaper-headline terms, he has captured the essence of a powerful plea for Middle East harmony. His lines sing with a passion for the innocent, caught in the middle of a conflict they neither favor nor understand."
Second prize of $400 went to Sally Odgers of Tasmania for "Spinning Pearls". This dream-like poem portrays a mysterious, magical woman whose gifts are now neglected by the world. Cynthia Rausch Allar of Pasadena, CA, won third prize and $200 for her poem "Uncovered". In this poignant poem, the rituals of a Catholic girlhood are the context for feelings of grief and helplessness when prayers seem to go unanswered.
Ten High Distinction awards of $100 each went to Cynthia Rausch Allar, Helen Bar-Lev, Brian Bentley, Noble Collins (three awards), Gretchen Fletcher, Rollin Lasseter, Johnmichael Simon and Joseph Soldati. Ten Highly Commended prizes of $70 and 30 Commended prizes of $50 were also awarded, bringing the total prize pool to $4,800. The top three winners, High Distinction poems, and contest guidelines are published online at winningwriters.com/margaret.
The Margaret Reid Poetry Contest for Traditional Verse accepts original poems of any length. Both published and unpublished works are accepted. Traditional verse is broadly defined as any form of poetry that has been in circulation for 50 years or more. It includes free verse. Poems should follow some kind of formal or informal pattern, which might involve rhyme, meter, line length or repetition.
The next Margaret Reid Poetry Contest will open at WinningWriters.com on November 15, 2007. The prize pool will increase to $5,250, making this one of the largest contests for traditional verse in the world. The top prize will increase to $2,000. The postmark deadline for entries in this next contest is June 30, 2008. Entries are accepted online and by mail.
About the Judges
Contest sponsor and final judge John H. Reid is a former journalist and magazine editor who has published several novels, a collection of poetry, a guide to winning literary contests and fifteen books of film criticism and movie history. He lives in Wyong, Australia. Mr. Reid is assisted in the judging by Dee C. Konrad. A leading educator and published author, Ms. Konrad was Associate Professor in the English faculty of Barat College of DePaul University, and served as Dean of Liberal Arts and Sciences for the year 2000-2001.
About Winning Writers, Inc.
Winning Writers assists with entry handling and publicity for the Margaret Reid Poetry Contest and other literary contests sponsored by Tom Howard Books. Winning Writers is today's leading source for poetry contest information. We have been selected as one of the "101 Best Web Sites for Writers" by Writer's Digest for three years in a row (2005-2007). Our online database, Poetry Contest Insider, ranks and profiles over 750 literary contests. Our free email newsletter offers news about free poetry and prose contests and quality literary resources.
Winning Writers was founded in 2001 by Jendi Reiter and Adam R. Cohen. Learn more at winningwriters.com.
# # #