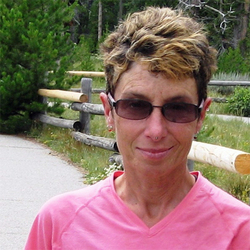 you tell me how you are learning to forgive/all the beauty that surrounds/the emptied pieces of you.
Northampton, MA (PRWEB) February 15, 2008
Tom Howard Books is pleased to announce the results from its fifth annual Tom Howard/John H. Reid Poetry Contest. Zoe Krasney of Albuquerque, New Mexico, won first prize and $1,000 for her poem "Another Country". Hundreds of entries were received from around the world.
Krasney's haunting poem uses symbolic and surreal imagery to express the narrator's perceptions of the prison environment where she is visiting a man she loves. The atmosphere is charged with regrets and memories that they can only speak of obliquely. Yet the possibility of redemption glimmers like the sun that suddenly breaks through the windows in the last stanza, as "you tell me how you are learning to forgive/all the beauty that surrounds/the emptied pieces of you." Contest judge John H. Reid said, "The language is not only novel but powerful in its immediacy. The poem sings in the present, yet reflects on the past with a potent streak of bitterness that runs parallel with its sorrow."
Second prize of $400 went to Paul Hamill for "A Midcentury Advent", a richly textured reminiscence of working-class families attending an evening church service in early winter. Contest judge Dee C. Konrad said, "Paul Hamill creates 'A Midcentury Advent' with a sense of 'worldly' prayer--honest and hoping for grace through human attempts to reach God. We sit with his parishioners. We note his words are committed to the expression of life experience challenged by the reality of the Mass. The last line seals the compelling exploration of the inner need to conquer the human with the divine."
Johnmichael Simon won third prize and $200 for "To Sing the World", a whimsical yet profound celebration of the diversity of human language, which also laments how our differences can divide us. Konrad said, "'To Sing the World' is a melody of words by Johnmichael Simon that highlights various languages and their special beauty as well as the language of all individuals and other creatures of the world--who speak with music, sweet and sharp."
High Distinction awards of $100 each went to Helen Bar-Lev, Mike Burch, Debbie Camelin, Noble Collins, Rollin A. Lasseter, Frances Truscott, and Mollybee Welkin. Eleven Highly Commended prizes of $70 and 12 Commended prizes of $50 were also awarded.
The Tom Howard/John H. Reid Poetry Contest accepts original poems of any length, style or theme. Both published and unpublished works are accepted. The sixth annual contest opened on December 15, 2007 and will be accepting entries through the postmark deadline of September 30, 2008. The prize pool is increasing to $5,250, with a top prize of $2,000. Entries are accepted online and by mail. To see the complete guidelines and past winning entries, please go to http://www.winningwriters.com/tompoetry
Contest sponsor and final judge John H. Reid is a former journalist and magazine editor who has published several novels, a collection of poetry, a guide to winning literary contests and fifteen books of film criticism and movie history. He lives in Wyong, Australia. Mr. Reid is assisted in the judging by Dee C. Konrad. A leading educator and published author, Ms. Konrad was Associate Professor in the English faculty of Barat College of DePaul University, and served as Dean of Liberal Arts and Sciences for the year 2000-2001.
About Winning Writers, Inc.
Winning Writers assists with entry handling and publicity for the Tom Howard/John H. Reid Short Story Contest and other literary contests sponsored by Tom Howard Books. Winning Writers is today's leading source for poetry contest information. We have been selected as one of the "101 Best Websites for Writers" by Writer's Digest for three years in a row (2005-2007). Our online database, Poetry Contest Insider, ranks and profiles over 750 literary contests. Our free email newsletter offers news about free poetry and prose contests and quality literary resources.
Winning Writers was founded in 2001 by Jendi Reiter and Adam R. Cohen. Learn more at WinningWriters.com.
###