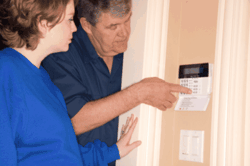 Irving, TX (PRWEB) March 01, 2013
The demand for enhanced home security systems is growing among mainstream homeowners. A February 2013 report by Juniper Research projected the "smart home" market will grow to $60 billion globally by 2017.
Two customers of Point, an Electronic Security Association (ESA) SECURE+ integrator headquartered in Lehi, Utah, recently discovered the added value in having a professionally installed electronic security system.
When Point customer Laurie Cox and her family first considered installing a security system with enhanced features, they were pleasantly surprised to learn their system could also save money on their heating and cooling bills. Similarly, customer Mitchell Miller discovered the added benefit of using his security system to help manage the care of his elderly mother.
According to Gerrit Brusse, Joint Venture Partner at Point, the Cox family in Utah was not especially enthusiastic about their security system until Point showed them how easy it was to use it to control their thermostat remotely while away from home.
"After using the system for a while, they were able to see significant savings in their overall heating bill simply by lowering the thermostat when they left home and then remotely increasing the temperature, so the house was warm and comfortable when they returned. Being able to adjust their thermostat remotely meant they ended up keeping the overall temperature lower even when they were home, thus adding to their savings and energy conservation," Brusse said.
Mitchell Miller, a Point customer in Louisiana, was also pleasantly surprised to learn his enhanced security system could help in the care of his mother.
According to a survey conducted by the National Alliance for Caregiving (NAC) in 2009, more than 48 million adults in the U.S. provided care to people over the age of 50. Of those 48 million, nearly 20 percent reported that they were caring for an adult who lived in their home.
Recently, Miller became a part of that percentage when he moved his ill mother into his home so he could provide daily care. Concerned about her safety while he was away, Miller initially contacted Point to install a Personal Emergency Response System (PERS), but what he learned was a lot more than he bargained for.
"We were able to add a cutting-edge home control system with two-way voice, so she can speak directly to emergency operators anytime she needs assistance. Mitchell can also remotely manage who has access to his home by adding and deleting codes. He can program different codes for different nurses who come to care for his mom allowing specific nurses access at appointed times," said Brusse.
Miller says he sets the system to he receive an e-mail or text notifying him when nurses come and go throughout the day.
"When I have to go out of town, I feel comfortable knowing my mother is secure and if necessary she can also call for immediate help with the touch of a button. The system is incredibly intuitive and easy to use and I can operate it from my smartphone," Miller said.
For Miller and Cox, the decision to enlist Point for the installation, monitoring, service and maintenance of their sophisticated systems was easy. And they aren't the only ones. Many consumers are enlisting help from SECURE+ integrators that they can trust.
"Both of these customers represent a growing trend in the electronic security industry as people increasingly turn to their security company to provide the technology to connect, protect and conserve," said Brusse.
Point was recognized for its work providing life safety plus digital lifestyle-enhancing systems during an awards presentation at the ESA Leadership Summit on February 19 in Orlando, Fla. Point received the SECURE+ Sustainable Lifestyle Award for their energy-saving installation at the Cox home and the Protect and Connect Award for helping Louisiana customer Mitchell Miller use his advanced system to manage care for his elderly mother.
For more information about SECURE+, please visit http://www.SECUREplusweb.org.
About SECURE+
SECURE+ is a special designation offered by the Electronic Security Association (ESA) as a way of increasing awareness of enhanced digital services provided by the association members. SECURE+ integrators make their customers' lives not only safer and more secure, but simpler, more energy efficient and more convenient.
Consumers can go to http://www.SECUREplusweb.org to find a list of SECURE+ integrators in their geographic area. These companies have proven expertise in designing and installing enhanced home control systems.
About ESA
Established in 1948, the Electronic Security Association (ESA) is the largest trade association representing the electronic life safety and security industry. Member companies install, integrate and monitor intrusion and fire detection, video surveillance and electronic access control systems for commercial, residential, industrial and government clients. In cooperation with an alliance of chapter associations, ESA provides technical and management training, government advocacy and delivers information, advice, tools, and services that members use to grow their businesses and prosper. ESA may be reached at (888) 447-1689 or on the Web at http://www.ESAweb.org.