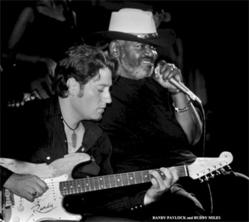 "I May Be Bluffin'" should be ready for release in a few weeks, after which Paris and Pavlock will follow with a music video.
College Station, Texas (PRWEB) May 21, 2012
It's only natural that Jim Paris, owner and Chief Dealer of The Texas Poker Store, would eventually go back to his rock and roll roots. He recently stepped away from the poker tables and teamed up with Randy Pavlock to write and produce a Texas Poker song.
"It's a collaboration made in heaven," says Jim Paris, about his relationship with singer-songwriter Randy Pavlock. "I produced the legendary Buddy Miles in the mid-1970s and early 1980s, and Randy not only called him his friend and mentor, but toured with Buddy on his farewell tour in 2007. Randy and I have been friends since we met at Buddy's memorial in Austin."
"When I got the idea to create a new poker song, there was nobody better to call than Randy," says Paris.
Pavlock jumped on the idea to compose a new song about poker. He immediately texted Paris some preliminary lyrics and Paris replied with continuation lyrics. Pavlock sent a rough acoustic version to Paris within days. Then Paris changed a few words, added another verse and a bridge and the two went back and forth until they were both satisfied that they had it right. "I wanted the lyrics to be authentic for real poker players, but also have a broader appeal, Paris notes. Pavlock also wanted the song to cross over and appeal to country rock fans as well as to rock n roll, so he added a driving rhythm that could please both audiences."
Pavlock has called on his band, Twenty Four Seven to lay down the music tracks. They are now in the studio laying down drums, bass, rhythm and lead guitar and, to sweeten it up, some hot keyboards.
"I May Be Bluffin'" should be ready for release in a few weeks, after which Paris and Pavlock will follow with a music video.
"I knew I could bet all my poker chips on Randy and come up with a winner," says Paris.
The Texas Poker Store was founded by Jim and Lynn Paris in 2011. Located in College Station - Bryan, Texas, the Texas Poker Store is a fully-stocked online poker store that offers 100 percent secured shopping. It features hundreds of poker supplies from poker cards, to the finest in luxury poker tables, folding poker tables and a variety of poker table tops. It carries poker chips and chip cases, poker novelties and collectibles, poker books and DVDs and the perfect gifts for any game room. You can find the Texas Poker Store's website at http://www.texaspokerstore.com, or visit their blog at http://www.texaspokerstoreblog.com Follow them on twitter and keep up with them on Facebook and Pinterest.