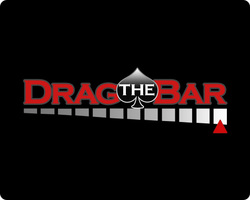 We have 11 amazing coaches, and they're putting up great training videos all the time
Charlotte, NC (Vocus) January 22, 2010
Emerging poker training site DragTheBar.com announced today it has acquired another training site, PokerSwat.com, and its library of 240 poker coaching videos. The move makesDragTheBar.com the first training site to acquire another and integrate its entire poker video library.
The news comes hard on the heels of DragTheBar.com's announcement last week that it had added legendary player/coach Dusty "Leatherass" Schmidt to its coaching team.
CEO Hunter Bick, who founded DragTheBar.com in June with partners Phil Nagy and Korey Gillis, said buying PokerSwat.com strengthens his site immeasurably.
"We have 11 amazing coaches, and they're putting up great training videos all the time," Bick said. "But given that we're a start-up, we felt our video library was a little light. Now it's as robust as anything you'll find out there. We've got tremendous momentum now, as our depth has been increased significantly."
Bick said the PokerSwat.com videos will be integrated into his company's library over the next 60 days. He also said some PokerSwat.com coaches may migrate to DragTheBar.com, though it's still to be determined who might be making the move.
PokerSwat.com is Ireland-based and was owned by PokerSwat Ltd. The site went live in Nov. 2008 and has approximately 1,000 total members. PokerSwat.com had stopped producing new content over the past several months, but Bick said DragTheBar.com will honor PokerSwat.com's obligations to its members.
Both parties mutually agreed that moving forward DragTheBar would honor any and all memberships that were currently active from the date of purchase. Both parties main concern was making sure members continue to receive high quality poker training.
Bick went on to say the PokerSwat.com acquisition "adds a lot of value" to existing DragTheBar.com members.
"In addition to the great coaching content they've been receiving, now our members will be able to view an additional 240 poker training videos," Bick said. "We'll have No-Limit videos by great coaches like Ozzy87 and Traheho, and even Pot-Limit Omaha videos by the likes of Gavz101 and Roundtower."
About DragTheBar.com
DragTheBar.com boasts some of the world's top online poker coaches, all of whom are active in the site's forums, as well as free membership options with rakeback at a variety of poker rooms. The site's poker training videos and poker software are not DRM'd and are compatible with iPods and other MP3 players. In addition to poker, the site also offers backgammon videos coached by world champion Bill Robertie.
There is no sign-up fee for joining DragTheBar.com, which has one membership level for all stakes and multiple payment options. The site is presently offering a 7-day free trial to all prospective members.
Press contact:
Phil Nagy
877-494-8331
phil(at)dragthebar(dot)com
###