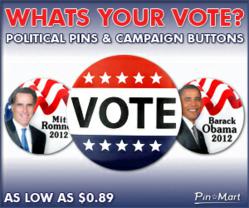 ...over $1.6 billion will be used on advertising premiums such as political pins and campaign buttons in this years Presidential election.
(PRWEB) June 28, 2012
PinMart, Inc. has announced the launch of its new product line of jewelry-quality political pins and campaign buttons which will feature over 40 new items geared toward the Presidential election of 2012. Campaign buttons and political pins are a popular tradition used by most political parties, support groups, and good causes to help motivate others and to promote a message. Many firms like PinMart are now taking note of the campaign spending climate to introduce advertising products with the hopes of capturing a bit of these lucrative advertising budgets.
On June 21st, 2012, the Supreme Court turned away a plea to revisit its 2-year-old campaign finance decision in the Citizens United case and instead struck down a Montana law limiting corporate campaign spending. This decision by the Supreme Court will continue the flow of corporate spending in campaigns on products like advertising premiums, political pins, and campaign buttons. PinMart is well positioned in this market with a vast line of promotional products designed for your favorite candidate or party in the upcoming election. PinMart's product line includes jewelry quality political pins, campaign buttons, and rhinestone broaches. All of the items in PinMart's new political pin line relate perfectly to their motto; "Don't just speak your view, wear it!"
PinMart, Inc. is a privately held company located in Mount Prospect Illinois, a suburb of Chicago, specializing in the design and manufacture of emblematic jewelry and lapel pins. In 1999, PinMart was a pioneer on the web with one of the first ecommerce websites in its industry. Since that time PinMart has taken advantage of its well positioned internet presence and now boast a client list that includes over 300 of the Fortune 500 companies. PinMart's mission is to help customers achieve their marketing goals through the use of quality emblematic products at affordable prices.