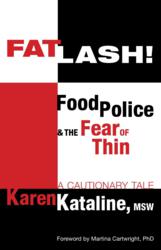 Eating disorders are rampant among people who had self-appointed food cops in their lives.
Denver, CO (PRWEB) January 08, 2013
An AP-NORC poll about obesity made news this week and was reported under the headline, "Obesity's a Crisis, But We Want Our Junk Food." Karen Kataline, author of FATLASH! Food Police & the Fear of Thin, says that's a misreading of the poll results.
The poll indicates that while many people acknowledge that obesity is a problem, there is, "little support for policies that would constrain consumer choices such as limits on the amount or type of food that can be purchased or taxes on unhealthy foods or drinks."
"That doesn't mean people are extolling the virtues of junk food," Kataline says. "It means they understand the difference between nutritional education and nutritional force. They don't want someone else making decisions for them, whether it's junk food or jicama." Kataline further asserts that when a "one-size-fits-all" approach is applied and people are prevented from making food choices on their own, there is a serious risk of backlash, or as Kataline calls it, FATLASH.
Kataline knows whereof she speaks. Her mother was weight and appearance-obsessed and put her on a 500 calorie-a-day diet at the age of seven. This resulted in a serious weight problem in adolescence and a disturbed relationship with food.
"Eating disorders are rampant among people who had self-appointed food cops in their lives. They are now left with the job of re-learning how to recognize their own appetites. Not that many years ago, Susie Orbach first wrote about this in 'Fat is a Feminist Issue.' There simply is no substitute for personal choice in these matters."
Another aspect of the AP-NORC Poll which garnered much less attention showed that 95 percent of those surveyed believe that obese people face some level of discrimination due to their weight.
"That's a stunning level of agreement," Kataline says, and further suggests that rather than forcing people to lose weight so that they might become more socially acceptable, we should pay more than just lip service to the notion of "diversity" and learn respect for other people's boundaries. Kataline adds that obesity for some people is a psychological attempt to create and solidify just such boundaries.
Karen Kataline, MSW received her master's degree from Columbia University and has practiced in a variety of non-profit and corporate settings. She has taught communications and public speaking at the New School for Social Research, Parsons School of Design in New York, New Jersey's Montclair State College, and Fairleigh Dickenson University, among others. She lends her operatic voice to a variety of fundraisers and community events.