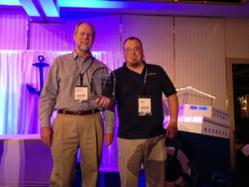 "The Roadnet system is a fantastic tool that is beneficial both to our employees and our customers" Al Hemmelgarn, Director of Operations at Pollock
Grand Prairie (PRWEB) November 15, 2012
Pollock Paper, a national distributor industrial packaging, janitorial supplies, and food service disposables is proud to be a recipient of the 2012 Roadnet Roadie award for transportation excellence.
The Roadie Awards were presented on October 22nd at the Roadnet Roundup Users Conference in Miami, Florida. The Roadie Awards are designed to recognize accomplished Roadnet Technologies vehicle route planning software users that have achieved excellence in one of three specialty categories: Running Green, Operating Efficiently, and Innovation.
Pollock Paper received the award for excellence in innovation, for their innovative use of the Roadnet Technologies system, which led to improved customer service and efficiency, and an excess of 99% on-time delivery ratio -, through use of Roadnet's software. Pollock also instituted driver incentive programs for outstanding performance and efficiency in deliveries and running of routes.
"Our customers can buy the products that we sell from several distributors. The difference we have to offer is our people," said Al Hemmelgarn, Director of Operations at Pollock, "We not only hire the most qualified people, but we also equip them with the tools they need to excel at their jobs and offer great service to our customers. The Roadnet system is a fantastic tool that is beneficial both to our employees and our customers."
The second annual Roadnet Roundup Users Conference and training academy provided new learning opportunities, access to product and industry information, hands-on training and peer discussions. Hemmelgarn and Kevin Welch, Traffic Manager at Pollock, attended the conference.
"This is a well-deserved award for our entire Roadnet/Transportation team," said John Crannell of Pollock Paper, "Thanks for making us proud!"
About Pollock Paper
Since 1918, Pollock Paper and the company's corrugated manufacturing division have been providing packaging and cleaning systems, solutions, and products to building service contractors, facility maintenance providers, manufacturing and warehouse facilities, school and government offices, healthcare facilities, food service operations, and retail chains. Find out more about Pollock at http://www.pollockpaper.com