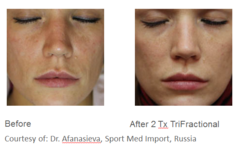 The TriFractional module enables the physician to offer advanced anti-aging solutions that patients are demanding.
(PRWEB) February 17, 2012
Pollogen Ltd., a global leader in the medical aesthetic market, announced that has received Health Canada approval for its TriFractional product, a state-of the art fractional skin resurfacing solution based on radiofrequency technology. The TriFractional product received CE mark approva l in September 2012 and has been very well received in Europe, Latin America and Asia. The anti-aging results achieved with the TriFractional are impressive: long-term skin tightening and firming, scar reduction, and skin rejuvenation.
An innovation on other fractional products, the TriFractional applicator uses a special algorithm to introduce radiofrequency energy to the skin which enables deep penetration to the mid-dermis with minimal discomfort, for one of the most effective fractional skin resurfacing treatments. The TriFractional RF energy creates tiny wounds which trigger the body's natural healing response mechanism, inducing neocollagenesis and creating healthy skin cells. After the treatment, the untreated areas in the skin layers function as healing centers.
Pollogen's TriFractional technology has been clinically tested to effectively deliver superior anti-aging results for wrinkle and pigmentation reduction, scar reduction - especially acne scars and skin tightening and firming. Since it is based on radiofrequency technology which is color blind, the treatment works on all skin types.
TriFractional is an add-on module to Pollogen's flagship multi-application Maximus MED platform, adding fractional technology to Pollogen's leading proprietary technologies – TriLipo Radiofrequency (RF) and TriLipo Dynamic Muscle Activation (DMA). Using these three technologies, the Maximus platform enables physicians to treat four layers of tissue: epidermis, dermis, muscles and fat, which no other single aesthetic device is able to do. The wide range of skin applications for both the face and body possible with Maximus, include wrinkle reduction, improved appearance of acne scars, firmed and rejuvenated skin, facial contouring, skin tightening, cellulite reduction, long-lasting circumferential reduction, stretch mark improvement and lifting, toning and firming of muscles.
Jay Herman, President of Sigmacon Medical, which exclusively distributes Pollogen's products in Canada stated: "We are very excited about the Health Canada approval. The TriFractional module enables the physician to offer advanced anti-aging solutions that patients are demanding. The aesthetic industry thrives on constant innovation and Pollogen has been able to continuously deliver new products and technologies".
Pollogen's CEO, Mr. Amichai Bar-Nir stated: "The TriFractional solution has already proven itself in key markets around the world and we are confident that the Canadian public will love the solution. In a quick lunchtime procedure individuals can achieve fantastic and significant anti-aging results."
About Pollogen
Pollogen Ltd. is a global leader in the medical aesthetics market providing innovative, safe and effective solutions for women and men that enhance and expand the practice of medical aesthetic professionals. The company offers products to address a range of skin treatments under the industry's three premier brands: TriPollar®, TriLipo® and TriFractional™.
Pollogen offers a full line of clinically-proven, non-invasive anti-aging facial and body contouring treatment platforms for circumference reduction, cellulite reduction and skin tightening. The company's medical aesthetic devices, Maximus, Apollo, and Regen XL offer customers clinically-proven, safe and effective anti-aging lunchtime beauty treatments that deliver immediate and long-lasting results. With a distribution network in over 60 countries, Pollogen is providing innovative solutions to medical professionals globally. For more details visit http://www.pollogen.com
About Signacon
Sigmacon Medical Products is a Canadian distributor of new and emerging healthcare technologies, including diagnostic equipment, light therapy systems, and surgical lasers for ophthalmology, dermatology, otolaryngology, gynecology, phlebology, and urology. For more information please call 1-800-898-7455, or visit http://www.sigmacon.com.
###