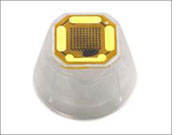 I have been treating patients with various skin conditions and have been very pleased with the TriFractional treatment results.
(PRWEB) December 12, 2011
Pollogen Ltd., a global leader in the medical aesthetic market, announced today the launch of its new 10 x 10 disposable tip for the Tractional applicator, specifically for anti-aging treatment. The key advantage of the 10 x 10 tip is its ability to provide dense coverage of the treatment area without compromising treatment uniformity and precision.
The 10 x 10 tip is an additional feature of the TriFractional applicator which received CE mark approval on September 22, 2011. The TriFractional applicator delivers advanced anti-aging radiofrequency technology that enables effective fractional skin resurfacing. The TriFractional energy creates micro-wounds which trigger the body's natural healing response mechanism, inducing neocollagenesis and creating healthy skin treatment. After treatment, the untreated areas function as healing centers. Pollogen's TriFractrional technology has been clinically tested to effectively deliver superior anti-aging results for wrinkle and pigmentation reduction, scar reduction - especially acne scars and skin tightening and firming.
Pollogen's TriFractional applicator is provided with 7 x 7 tips. The advantage of the 7 x 7 tip is that it allows for deep penetration to the mid-dermis layer, and since it is less dense than the 10 x 10 tip, it provides a more gentle treatment with less downtime. The 10 x 10 tip reaches the upper dermis layer and since it has denser surface coverage, it provides superior treatment to the epidermal layer. The combined treatment with the 7 x 7 and 10 x 10 provides an optimal anti-aging treatment.
The TriFractional applicator is a module of Pollogen's flagship Maximus platform. The Maximus platform now includes three technologies -TriLipo Radiofrequency(RF), TriLipo Dynamic Muscle Activation (DMA) and TriFractional. For the first time, using a single platform, physicians can use three technologies to treat all four layers of tissue - the epidermis, dermis, muscles and fat. The treatment flexibility facilitated by the Maximus system is unmatched by any other aesthetic device in the market.
Board certified plastic surgeon, Alexander Levenberg, M.D., who has been using the TriFractional applicator stated: "I have been treating patients with various skin conditions and have been very pleased with the TriFractional treatment results. TriFractional is effective on all skin types and I have achieved very good acne scar reduction results as well as skin tightening on very sensitive areas such as around the mouth and eyes. It is a wonderful technology that can be used for a wide variety of applications.
Pollogen's CEO, Mr. Amichai Bar-Nir stated: "Pollogen is dedicated to genuine product innovation. We are continuously listening to the demands of the market and developing products that enable physicians to give superior anti-aging treatments to their patients. The TriFractional technology, with the two treatment tip alternatives, provides physicians with a cutting edge anti-aging technology. It can be used as a standalone solution or on conjunction with Pollogen's other technologies. We are confident that it will quickly become an industry gold standard."
About Pollogen:
Pollogen Ltd. is a global leader in the medical aesthetics market providing innovative, safe and effective solutions for women and men that enhance and expand the practice of medical aesthetic professionals. The company offers products to address a range of skin treatments under the industry's three premier brands: TriPollar®, TriLipo® and TriFractional™.
Pollogen offers a full line of clinically-proven, non-invasive anti-aging facial and body contouring treatment platforms for circumference reduction, cellulite reduction and skin tightening. The company's medical aesthetic devices, Maximus, apollo, and regen XL offer customers clinically-proven, safe and effective anti-aging lunchtime beauty treatments that deliver immediate and long-lasting results. With a distribution network in over 60 countries, Pollogen is providing innovative solutions to medical professionals globally.
###