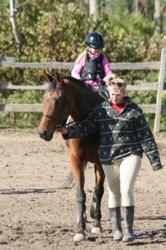 Discover the world of horses!
Clarence, NY (PRWEB) March 08, 2013
Spruce Meadow Farm is a friendly, family-owned horseback riding facility and horse farm in Clarence, New York.
As spring grows closer, the business encourages riding enthusiasts, or those looking to share a memorable day out, to experience their new, special parent/child riding time for parents and their child.
These lesson outings begin with learning together how to groom and saddle up the horse (or horses, depending on whether walking or ride with a child.) Once the horses are ready, ASTM approved equestrian riding helmets will be provided by the farm.
Next, riders will go to the riding ring and learn how to mount up. Once mounted, instructors will begin teaching how to ride.
Lessons always emphasize safety and good riding etiquette, along with introductory horsemanship to give new riders a strong foundation in basic skills.
Each month there is a new discount coupon featured on the website. All people have to do is click on the coupon to print it out, bring it with them and receive a discount.
The professional staff at Spruce Meadow Farm are family-oriented and friendly towards regular guests and first-timers alike. The mission of the business is to train riders in effective technique and valuable skills while still having tons of fun.
This is especially true at riding camp. Arts and crafts, new friends and games on horseback allow campers to hone their skills in a relaxed environment.
Whether riders choose to enroll in one of the camps or try a riding lesson, excitement, fun and discovery are guaranteed.
Visit the farm's website at http://www.SpruceMeadowFarm.com to find out about other events that are coming up.
Special deals can be purchased either on the website or by calling the farm at (716)741-2346.
The Spruce Meadow Farm facility also provides boarding, private and group lessons, and pony parties to suit every occasion.
The farm is dedicated to hosting a wide range of special shows and seasonal events, and the easiest way to keep up with all the excitement is by "liking" the business on Facebook.
The site also allows visitors to sign up for a mailing list, which helps to keep busy riders informed about the latest happenings on the farm.
About the company:
Located at 10333 Keller Road in Clarence, New York, Spruce Meadow Farm focuses on English horseback riding and offers boarding & leasing, training, pony parties and rides, horse lesson riding, horseback riding camps, horse shows, clinics, all kinds of horseback riding in New York and much more!
They take pride in their friendly atmosphere, facilities and the effectiveness of their programs, and invite people to experience it for themselves.
At Spruce Meadow Farm, they want all animals to find safe, loving homes. For more information, please visit their site at SpruceMeadowFarm.com.