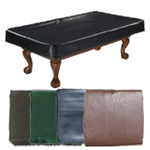 The online store introduces money back program for the customers if the purchased items turn out to be faulty. The claim should be made within 45 days of purchase.
New York, NY (PRWEB) November 12, 2012
Online billiard accessory store, Monster Break Billiards now starts a 45-day money back guaranty program. Dissatisfied customers can claim the money back within 45 days of purchase.
Online purchase though gaining ground following technological advances, but not all online stores are equally trustworthy to avail services. Sometimes customers face lots of trouble to get the products delivered at mentioned location. However, Mr. Octavio Dexter, owner of the online store for billiard accessories, Monster Break Billiards assures that customers don't need to face any such issues while purchasing products from his store. A 45-day money back guaranty program is now available on purchase of different billiard accessories, including pool table covers. If the products are not delivered on time or it doesn't reach the destination in proper condition, customer can demand back the amount charged for shipping and purchasing.
He made official announcement about their latest money back plan and said, "We are delivering quality billiard accessories like pool table covers and others from long time and want to keep up customers' trust on us. As we have a strong basis to deal with customers thus can take responsibilities easily. We always give the best while handling a deal with customers and care for their profit. That is why we have decided to pay off the amount if customers detect our services to be faulty."
Customer can demand either for replacement or for money-back in case of faulty delivery. However, they have to pay the next time shipping charge if they want to replace the received products that reached the address in otherwise better condition.
What Mr. Joey Hailey, the head of the shipping department of the company says about the service, "While dealing with customers across the world we want to be sure that they are completely satisfied with our services. Unlike other companies, we don't hide our faults, as it is very natural and dare to rectify it instantly so that the same customer once again agrees to continue business with us. 45-day money back guaranty on purchase of table covers and pool cases is one example of many such approaches taken by the company."
Mr. Roderick, a regular customer of the store commented on the service saying, "I always prefer customer oriented service available here and liked this offer very much"
However, customers have the authority to avoid the claim in case of mishandling or abuse of the products. The guaranty period will be counted from the day of purchasing.
About the company: Monster Break Billiards is the online store for billiard accessories. All kind of billiard accessories like pool table covers, case, cues, etc. are available at the store. Owners of the store ship products at most of the USA locations. To know more visit http://www.monsterbreakbilliards.com/billiards-supplies-table-accessories-pool-table-covers.html.