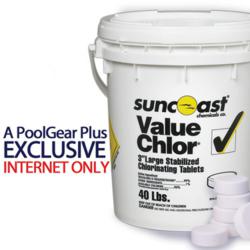 Pool owners can buy a 40-lb. bucket of stabilized chlorine tablets for $84.99 – just $2.12 per pound.
Clearwater, FL (PRWEB) April 26, 2011
PoolGear Plus, the discount pool supplies superstore, has released new everyday low pricing for Suncoast Value Chlor 3-inch chlorine tablets. With no coupon needed, pool owners can buy a 40-lb. bucket of stabilized chlorine tablets for $84.99 – just $2.12 per pound. Low prices on chlorine and other pool chemicals plus free shipping and an $8.99 handling fee per order give PoolGear Plus, online at http://www.poolgear.com/, a powerful advantage in the competitive pool supplies market.
Though budget-priced, Suncoast Value Chlor 3" chlorine tablets are top-quality; these full-strength tablets are individually-wrapped and UV-protected for extended chlorine life. "We manufacture our own chlorine tablets, so we're able to cut out the middleman and pass the savings on to our customers," says Rachaelle Lynn, a Pool Care Expert at PoolGear Plus. "We're pleased to be able to offer discount chlorine prices without compromising on quality."
Chlorine is a sanitizer that eliminates bacteria, algae, and organic contaminants introduced into the pool by wind, rain, and swimmers from swimming pool water. Because it oxidizes while it sanitizes, chlorine also gives pools the inviting crystal-clear water that makes everyone want to dive in for a swim. Three-inch chlorine tablets placed in floating chlorinators or automatic chlorine feeders provide easy, mess-free pool sanitizing.
In addition to the low chlorine prices at PoolGear Plus, customers who are new to the concept of ordering chlorine tablets and other pool supplies online will appreciate the added convenience of having them delivered directly to the homes. "No one looks forward to lugging heavy buckets of chlorine from the store to their vehicle and then from their vehicle to their garage in the summer heat," says Ms. Lynn. "We give pool owners the opportunity to have everything they need for their pools delivered directly to their doors for just an $8.99 handling charge per order. Our service is particularly valuable to pool owners who are seniors or who have difficulty lifting and carrying heavy objects – but all of our customers love it."
To give pool owners even more confidence when purchasing chlorine and other pool supplies from PoolGear Plus, the company has instituted a best price guarantee policy and will match any lower price on an identical product from a competitor. "Shipping is free, our handling fee is never more than $8.99 no matter how much you order, our customers never pay sales tax, and we have a best price guarantee, so pool owners never have to worry about where to get the best deal," says Ms. Lynn. "They'll always get the lowest prices on chlorine and other pool supplies at PoolGear Plus."
About PoolGear Plus
PoolGear Plus, a one-stop shop for pool and spa supplies including pool and spa chemicals, accessories, and equipment, is the fastest-growing catalog and internet company in the US. The company also maintains the Pool Care Tips blog, which provides residential pool and spa owners with how-tos, product reviews, and up-to-date information on maintenance and troubleshooting.
# # #