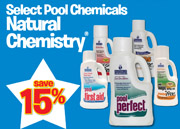 The 4th of July Sale on pool supplies is underway now at PoolGear.com.
Clearwater, FL (PRWEB) June 26, 2012
The number-one online pool supplies store, PoolGear Plus, has its 4th of July Sale happening now! This sale offers fantastic prices on pool tools, above ground pool steps and ladders, environmentally friendly pool products, and salt chlorinators for saltwater pools. These great deals on pool supplies are available now through July 04, 2012.
Pool maintenance equipment on sale during the 4th of July Sale at PoolGear Plus includes a 20" Flexible Nylon Wall Brush and Pro Series Fine Mesh Leaf Rake, both 15% off. The 5' to 15' Telescopic Pole is on sale for just $29.74 and perfect for cleaning those hard-to-reach places in the pool. Floating chlorinators in the 4th of July Sale include the Derby Dolphin and Surfin' Shark Floating Chlorinators for a bit of fun while keeping the pool sparkling-clean. Pool owners can also save 15% on a wide variety of pool supplies such as maintenance tools for keeping a crystal-clear pool all summer long.
Pool owners will have an easier time getting in and out of an above ground pool with the addition of pool steps or a pool ladder. During the 4th of July Sale at PoolGear Plus, Confer In Pool Steps, designed for easy pool entry, are marked down by 15%. These pool steps fit 48" to 58" pools and decks and feature easy snap-together assembly. Also 15% off during the sale is the Confer Heavy-Duty In Pool Ladder. This above ground pool ladder fits deck heights from 46" to 56" and is made with white side rails with gray treads for high visibility in pool water.
Natural Chemistry® Pool Products are specially developed to focus on both the environment and the pool owner. Natural Chemistry® Pool Products on sale for 15% off include Metal Free™, Phos Free™, Pool First Aid™, Pool Perfect™ and more. These pool products provide an eco-friendly pool treatment for anything swimming pools encounter this pool season.
Summer nights in the hot tub or spa provide a great way to unwind after the day. During the PoolGear Plus 4th of July Sale, select Spa Choice® Spa Chemicals are 15% off. Spa Choice® Clean N Fast is an all-purpose cleaner for use in and around spas and hot tubs. Spa Choice® Spa Chlorine Sanitizing Granules is a chlorine sanitizer that dissolves quickly and will control the growth of algae, kill bacteria and destroy organic contaminants.
Salt pool equipment on sale during the 4th of July Sale on pool supplies at PoolGear Plus includes salt chlorinators from well-known brands such as Hayward, Pentair and Jandy. The Hayward Aqua Rite Electronic Salt Chlorinator is 15% off and has a manufacturer's mail-in rebate. The Eco-Chlor Salt Chlorinator is a bargain at only $599.99 for a 20,000 gallon pool. This Eco-Chlor is $50 off and is considered the most efficient chlorine factory in the world. Electronic chlorine generators produce their own pool chlorine from a low concentration of salt that is dissolved into the pool water to create 100% of the pool's sanitizing needs.
PoolGear Plus 4th of July Sale prices are effective through July 04, 2012, but don't delay! Pool owners and pool enjoyers should check out the rest of the sale on pool supplies and get everything they need in time for a summer full of pool parties and enjoyment.
About PoolGear Plus
PoolGear Plus offers pool chemicals, chlorine, pool supplies, pool equipment, and patio accessories at the lowest prices available online. Dedicated to value and service, PoolGear Plus provides everything pool owners want and need for their pools. The company strives every day to provide pool owners and pool enjoyers alike with top-quality pool products and exceptional customer service. PoolGear Plus: Your Pool Is Our Passion. http://www.poolgear.com