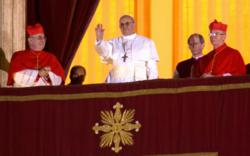 Jesus called his followers to be known not for profound things they said but for incredible things that they did.
(PRWEB) March 28, 2013
"Christians worldwide must be marked by bold, courageous, unconventional acts of service to those that society overlooks. That means being willing to follow Pope Francis' lead," says followme.org, a faith-based website.
That statement came today as the newly-elected Pope Francis challenged Catholics worldwide to commit to acts of service as he washed the feet of inmates in an Italian prison, according to the London Telegraph.
On Thursday, the Christian Church worldwide celebrated Maundy Thursday, a day set aside to commemorate the sacramental ritual of the Lord's Supper. On this day, the Pope also traditionally washes the feet of faithful followers, according to the Telegraph.
However, Pope Francis appears to have broken multiple traditions of Catholic orthodoxy in this year's ceremonies. Francis washed the feet of a woman, a controversial move given that all of Jesus' original disciples were men. Francis also washed the feet of a Muslim woman at the prison, appearing to deny the requirement that participants be Christian, according to the Telegraph.
Before the ceremony, Francis offered this challenge to Catholics worldwide: "We need to go out to the outskirts where there is suffering, bloodshed, blindness that longs for sight, and prisoners in thrall to many evil masters. It is not in soul-searching or constant introspection that we encounter the Lord," Francis continued, according to Independent Catholic News.
And, it is this commitment to service that the global Church must be known for, according to one faith-based website. Followme.org provides daily subscription content to users battling difficult life circumstances such as suicidal thoughts and depression. Its founders say that Pope Francis' commitment to service is a "call to action" for Christians worldwide.
"Christians worldwide can learn much from Francis' bold move to include who many would call the 'dirtiest' among us in one of the most sacred rituals of the Catholic church. Jesus called his followers to be known not for profound things they said but for incredible things that they did," says Pastor Jamie of followme.org.
What does the Church have to gain by heeding that call to service? "Healing, empowerment, and restoration of those in the world who most need it," says Pastor Jamie.
So, what is next for Pope Francis as he celebrates Holy Week, the most significant week in the Catholic religious tradition? On Friday, he will oversee the Via Crucis ceremony, in which attendees commemorate the path of Jesus Christ to his death by crucifixion.
In the ceremony, Catholic followers carry a replica of Jesus' cross into and around the Roman Colosseum. Pope Francis is expected to carry the cross on his shoulder for part of the ceremony, according to the Telegraph.
Followme.org will host a virtual Good Friday service on its website, holyweek.tv. Followme.org is a ministry of ShoutChurch.tv: http://www.shoutchurch.tv.