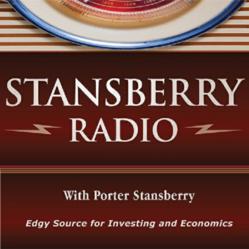 When pressed to guess how long this can continue, Faber agreed that "in five years' time the game is over."
Baltimore, MD (PRWEB) April 18, 2013
"I think the problem in most countries," he says, " is a political problem. You have, essentially, large mandatory expenditures...and as a percentage of the population, less and less people working. And so these unfunded liabilities...accrue at a very fast pace."
But the bigger threat, according to Faber, is the Federal Reserve.
"If the U.S. Government was a company, the deficit would be $5 trillion because they would have to account by general accepted accounting principles. But actually they encourage government spending, reckless government spending, because the government can issue Treasury bills at extremely low interest rates."
When pressed to guess how long this can continue, Faber agreed that "in five years' time the game is over." Porter Stansberry, the host of the show, agreed the timing was imminent but said his best guess would be around four years.
The interview was hosted by Stansberry and his co-host, Aaron Brabham. You can listen to the entire conversation here.
The Stansberry Radio Network is becoming a required stop for financial experts, economists, politicians and the media. The show has been host to a wide variety of prominent names, including Lauren Lyster, Jeff Macke and Alex Jones. Other guests have included Mike "Mish" Shedlock, MSNBC host Chris Hayes, former U.S. Senator Byron Dorgan, publisher Steve Forbes, and renowned investors Jim Rogers and Marc Faber.
Stansberry Radio Network segments can be accessed at http://www.stansberryradio.com.
Stansberry Radio is a top three investing podcast on iTunes, with more than 80,000 downloads and listens per month. New episodes are released every Thursday afternoon.
About Dr. Marc Faber
Dr. Marc Faber is the author of "The Gloom Boom & Doom Report" which highlights unusual investment opportunities. He also wrote "Tomorrow's Gold -- Asia's Age of Discovery," an Amazon best seller that looks at future investment opportunities around the world.
Faber was born in Zurich, Switzerland and holds a PhD in Economics. He has worked for White Weld & Company Limited and was the Managing Director of Drexel Burnham Lambert (HK) Ltd. Since 1990 he has run Marc Faber Limited which acts as an investment advisor and fund manager.