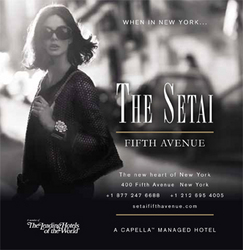 Capella Hotels is uniquely equipped to design a most memorable guest experience that will ensure success. Our role at Posner is to support that mission by establishing the right identity in the marketplace
New York, NY (PRWEB) November 3, 2010
Posner Advertising, is helping to redefine the concept of luxury in New York's finest hotels, with the introduction of The Setai Fifth Avenue, A Capella Managed Hotel and member of The Leading Hotels of the World. Posner, the luxury lifestyle marketing agency has been recognized for its skills in presenting some of Manhattan's most exclusive luxury condominiums including 15 Central Park West and Trump Park Avenue.
Many New Yorkers have seen the final touches being placed on the new limestone and glass sixty story tower at 400 Fifth Avenue between 36th and 37th Streets designed by famed architect Gwathmey Siegel & Associates, just two blocks north of the Empire State building. The first 31 stories of the mixed use Setai will feature the hotel, its full floor Auriga Spa with a Julian Farel Salon, Chef Michael White's new world class restaurant and bar, Ai Fiori. and the sophisticated Bar on Fifth. High above, on floors 32 through 61 are The Setai's new ultra-luxe condominium homes showcasing unparalleled views.
The Setai's hotel management firm, Capella Hotels and Resorts, founded by Horst Schulze a legend in the hospitality business and former COO of Ritz-Carlton Hotels. Capella recommended Posner Advertising to Bizzi and Partner's, the hotel's developer because Posner has unique insight into the luxury market.
"Creating a great hotel in New York begins with a clear goal – to provide exceptional service ", said Bob Posner, Principal of Posner Advertising. "Capella Hotels is uniquely equipped to design a most memorable guest experience that will ensure success. Our role at Posner is to support that mission by establishing the right identity in the marketplace. We look forward to launching the campaign in the coming weeks."
One of the many strategies Posner Advertising is employing to maximize the hotel's advertising budget is leveraging its unsold occupancy through barter with the media, thereby minimizing actual cash outlay for the hotel while attracting important "first experiencers" to help create the buzz.
The opening of the Setai Fifth Avenue will enhance and elevate the desirability of the real estate in the immediate area, attracting increasing numbers of high end businesses, luxury retailers and dining venues. As New York continues to evolve, this location truly is "The New Heart of New York" within walking distance is Murray Hill, Chelsea, Greenwich Village, The Fashion and Theatre Districts, Beekman and Sutton Place.
Posner Advertising, Inc., established in 1959, is a full-service branding, advertising and interactive agency with offices at 30 Broad Street, offering fully integrated, multi-faceted marketing programs utilizing both traditional and on-line media. For more information please contact Bob Posner at 212-867-3900.
###