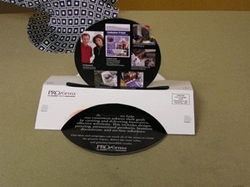 High Point, NC (PRWEB) March 9, 2009
While 97% of people are taking their direct mail and tossing it in the trash one printing company has developed a postcard that people actually want to keep.
Wall Printing has combined a pop up and a postcard. The original intent was to make a postcard that attracted attention, but users quickly discovered something even more powerful.
When the pop up contains a calendar, weekly specials or some other piece of relevant information, it is much more likely to stay around. Sports teams are beginning to use it as a different way to get their schedules out to fans since the size allows for more design options than are available on a one dimensional piece. Colleges, universities, and restaurants are among the others who are incorporating this new product into their marketing strategy.
There certainly has been a lot of interest since it was released three weeks ago says Mike Vitamvas, partner of Wall Printing. I think everyone is looking for a cost effective way to get their message out. While costing more than a normal postcard this product has a much longer life and is just different enough to make people stop and take a closer look.
Normally the life of a postcard is very short, but this piece can live for several months. It has created a new way to think about direct mail marketing. The pop up postcard goes out like any direct mail piece but once it arrives at its destination people pop it up and the information on the pop up can make someone hang onto it for weeks and even months.
The piece is being marketed nationally through the Proforma network. Proforma owners provide marketing services to small and medium businesses including printing, eCommerce, Multimedia, Promotional products and Project Management.
###