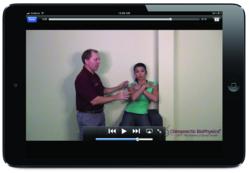 Posture and Functional Movement Analysis all on an iPad
Trinity, FL (PRWEB) March 31, 2013
An update to PostureScreen mobile by PostureCo, Inc has just been submitted to the iTunes App Store, which refines the Movement Analysis and Screening Module.
This new updated module will allow fitness professionals, chiropractors, physical therapists and coaches to analyze not only static posture, but also perform a functional movement screening and analysis in any range of motion or athletic movement.
In addition, there is now an all new Exercise preview system, so a clinician or fitness professional can evaluate exercises in detail prior to prescribing to their client.
This update is made possible with collaboration with WebExercises, Inc.
For more information, call 866.577.7297 http://PostureAnalysis.com or email info(at)postureco(dot)com