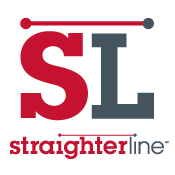 By working with CHOICE and Potomac College, students can get their first year of college for free. Not only does this keep the cost of education down, but it also makes it much less risky to start.
BALTIMORE, MD (PRWEB) March 11, 2013
StraighterLine (StraighterLine.com) announced today a new partnership with C.H.O.I.C.E. (Children/Communities Having Opportunities in Changing Environments), Inc. to help young adults and adults ages 17 and up further their education and prepare for their jobs and careers.
In conjunction with Potomac College (potomac.edu), one of StraighterLine's oldest partner schools, C.H.O.I.C.E., Inc. is now offering their program participants the chance to take their entire freshman year through StraighterLine. Students who successfully complete StraighterLine's "Freshman Year for $1299" online college program and then transfer their courses to and enroll at Potomac College will be reimbursed for the cost of that program*.
"By working with CHOICE and Potomac College, students can get their first year of college for free. Not only does this keep the cost of education down, but it also makes it much less risky to start -- perfect for students who may be starting down the pathway to college for the first time," says Burck Smith, CEO of StraighterLine.
"Letters make words, words make sentences, sentences make paragraphs and paragraphs make a story. Through education we can all read and know life as it was, as it is, and as it will be," says Aretha Lyles, Founder/Executive Director of C.H.O.I.C.E., Inc.
"Potomac College looks forward to this private/not-for-profit collaborative to provide an alternative pathway to a college education," says Walter Person, VP of Assessment and Institutional Research for Potomac College. "We believe this initiative addresses two of the major concerns for students and parents related to college, Cost and Completion. Students not only have a lower price point to see if college is for them, they also will have academic support in a self-paced structured classroom environment and pathway to college degree."
About C.H.O.I.C.E., Inc.
C.H.O.I.C.E., Inc. is a community-based organization committed to changing lives through education. Participants have an opportunity to continue their education and develop an educational plan they understand and believe in and a career plan that's realist and achievable. They help young adults/adults rebuild their lives with an opportunity to increase their vocabulary skills, obtain their High School Diploma/GED Prep, and build self-confidence to apply for jobs that allow sustainability. They also offer participants an array of services and future opportunities through partnerships with corporations.
Together with StraighterLine and Potomac, C.H.O.I.C.E., Inc. can now offer young adults/adults the opportunity to get a quality education online, flexibly and conveniently, at a substantially lower cost than most traditional degree programs. Students can take college prep, freshman and introductory-level classes through StraighterLine and save thousands of dollars on the cost of their college degree.
About Potomac College
Potomac College was founded in 1991 and has continued to offer programs leading to the Associate of Science and the Bachelor of Science degrees that are in high demand fields. Potomac College is unique in its devotion to one goal – the needs of the working adult. Potomac College faculty and staff work individually with each of our students to establish an academic pathway that best satisfies his or her needs, and how these needs relate to their course of study as well as their ultimate professional goals. We offer the convenience of time, location, and program pace; factors that we believe contribute to the overall success of our institution and help our students balance their life with their education.
About StraighterLine
StraighterLine has been recognized as a revolutionizing force in lowering the cost of college education by major news organizations and the U.S. Chamber of Commerce for offering students online courses that earn real college credit for just $99 a month. Inside Higher Ed recognized StraighterLine for offering the "...lowest-cost set of credit-bearing courses on the Internet." And Fast Company named StraighterLine one of the "10 Most Innovative Companies in Education."
In order to facilitate the award of credit, StraighterLine has forged partnerships with leading accredited online colleges and universities. A student ultimately earns a degree from those institutions but realizes tremendous savings and convenience by starting with StraighterLine.
StraighterLine's courses are evaluated and recommended by the American Council on Education's College Credit Recommendation Service (ACE CREDIT), which includes over 1,800 participating colleges and universities. In addition to the institutions with which StraighterLine has a direct relationship, more than 300 other schools are reported to have accepted StraighterLine coursework for transfer credit.
Currently, StraighterLine offers entry-level college courses online in the Sciences, Humanities, English, Math, Business and Language. Many StraighterLine courses are now offered in both self-paced and professor-led formats, for students to take individually or as part of a cohort; a few are even available as free open online courses. 5 StraighterLine courses have been approved by The College Board to be listed as AP courses. As a pioneer in the movement to revolutionize college for America, StraighterLine also offers alternatives to college courses including Prior Learning Assessments and credit-by-examinations that let students earn college credit for knowledge and life experiences they already possess.
For information, visit StraighterLine.com or call 1-877-str8erline (1-877-787-8375).
###

StraighterLine courses taken must be on the approved transfer or equivalency list to qualify for FYFTS. Student must be eligible for enrollment in Potomac and then must successfully complete one (1) semester with Potomac; have achieved satisfactory academic progress ("SAP") and a semester grade point average ("GPA) of 2.0; and not owe any monies to Potomac, to be eligible for reimbursement. FYFTS constitutes reimbursement of the tuition costs of up to thirty (30) credit hours, FOR NO AMOUNT GREATER THAN $1299.00, with Straighterline only, and does not include a reimbursement or waiver of other program costs, including but not limited to, books, supplies, travel, classroom-related materials or other miscellaneous costs. Please see the Potomac College First Year Full Tuition Scholarship Agreement for complete terms and conditions.