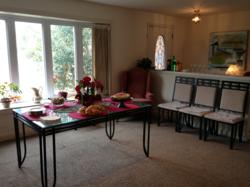 This is a beautiful place! I would definitely recommend this assisted living for a loved one!
Potomac, MD (PRWEB) March 14, 2013
Potomac Seniors Village, an assisted living center in Potomac Maryland is excited to state that the Lunch and Tour event that was held on March 11, 2013 was very successful. This event was held for all of the companies who have referred residents to the assisted living center. Staff from senior referral companies and hospice staff were among the attendees. The event included a meet and greet with the staff and residents and a tour of the assisted living in Montgomery County. In addition, a tour of a newly started home was given. Attendees were then brought back and helped themselves to delicious food and socializing. At the end of the event, each attendee received a small gift as a token of appreciation.
Potomac Seniors Village is an assisted living center located in the heart of Potomac Maryland extending over six acres of lush green land. The assisted living Potomac is walking distance from the Potomac Village, a shopping center where many restaurants, banks, grocery stores and other shops are located. The popular Great Falls Park is just a drive away for residents who enjoy walking along the water and exploring the trails. Sporty residents can also enjoy playing golf at two local golf courses and other sports at recreation centers. For residents who enjoy being indoors, Montgomery Mall is close by which holds stores like Macy's, Nordstrom and many restaurants. Even though the homes operate separately, they are close enough for residents to interact with each other. The location of the assisted living in Montgomery County caters to residents of all interests while living comfortably.
The staff is comprised of licensed and experienced managers, medication technicians, nurses and nursing assistants. All of the staff undergoes rigorous training so that they can provide the best services to each of the residents. Services include, but are not limited to, 24-hour supervision, three nutritious meals a day with unlimited snacks, a fully furnished room, and medication management. Family members are also welcomed and encouraged to visit their loved ones.
Potomac Seniors Village welcomes all interested parties to visit and tour the assisted living center. To set up an appointment, please call 301-299-1670 or send an email to info(at)potomacseniorsvillage(dot)com.