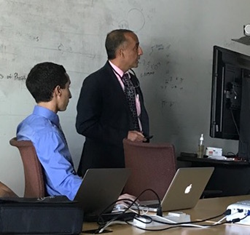 (PRWEB) June 29, 2017
San Diego double board certified plastic surgeon, Tom J. Pousti, MD, F.A.C.S, of Pousti Plastic Surgery, was invited to speak at the University of California, San Diego School of Medicine at the Plastic Surgery Division's Grand Rounds. The School of Medicine's Grand Rounds is a weekly training and education program as part of the Plastic Surgery Residency Program, and offers deeper training and understanding in different areas of plastic and cosmetic surgery from various medical professionals, doctors, surgeons and educators.
The primary educational goal of the UC San Diego Plastic Surgery Program is to consistently educate and train physicians in the art and science of plastic and reconstructive surgery as well as to develop a competent and responsible plastic surgeon with high moral and ethical character.
Recognized for his extensive knowledge, training and education in plastic surgery, Dr. Tom Pousti educated medical students in all facets of revisionary breast surgery, using specific patient case studies to provide a deeper understanding to medical students. Example revisionary breast surgery topics that were covered as part of Dr. Pousti's lecture included capsular contracture, breast asymmetry, implant rippling, lateral displacement, symmastia, bottoming out, tuberous breasts, and use of alloderm in revisionary breast surgery cases.
Dr. Pousti's lecture was well received at the School of Medicine and offered medical students practical knowledge of all aspects pertaining to revisionary breast surgery and the proper treatment of patients.
Dr. Tom Pousti, MD, F.A.C.S, is the chief surgeon and medical director of Pousti Plastic Surgery. He is double board certified in both general surgery, and plastic and reconstruction surgery. Dr. Pousti completed his plastic surgery training at Harvard University and trained with expert and world-renowned surgeons at the Brigham and Woman's Hospital in Boston, Massachusetts.
Pousti Plastic Surgery specializes in various types of cosmetic procedures, including breast augmentation, breast revision, fat reduction, body contouring, facial rejuvenation, and other types of revisionary surgery. Dr. Pousti sees patients from across the United States and around the world. He believes in individualizing every surgery to meet and exceed each patient's expectations.
For more information on these procedures, to read patient testimonials, or to learn more about Dr. Pousti and his San Diego practice, please visit their website at http://www.poustiplasticsurgery.com or call (619) 466-8851.
###