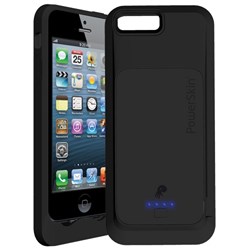 Denver, Colorado (PRWEB) March 18, 2013
According to Ironclad Integrity Ltd. shortly after Apple's iPhone 5 release there was less than a dozen of battery cases available in the market, just a few months later the offer has extended to a significant variety.
Since prices don't range that much for battery cases, it has become increasingly difficult for buyers to identify the one that will give the most bang for their buck.
http://www.iPhone5BatteryCase.net proves that buying the right battery case is not an easy investment. It needs to provide for adequate protection against any damage that might impact resale value as well as for enough battery life to run power-thirsty apps and meet users' extensive usage.
Design is also something that impacts the purchasing decision considerably. Fashion forward iPhone 5 battery cases are quite appealing, but most buyers are interested in cases with a sleek design that matches or highlights Apple's iPhone 5. It should be as thin as possible, as well as easy and safe to use.
The price used to be one of the factors that helped buyers make up their mind when it came to buying a battery case for iPhone 5. Now, most battery cases are priced around $80 making it harder for buyers to identify the one that meets most their expectations.
PowerSkin Battery Case is a power accessory for iPhone 5 that is priced at $80, just like dozens of similar products, each more appealing than the other for the buyer.
Ironclad Integrity Ltd.'s website, iPhone5BatteryCase.net has just finished the review of the PowerSkin case, a product that pertains best to the buyer interested in classic design. The battery panel features an angle shape that makes it more comfortable to hold in the palm for the users still not accommodated with the sleek lines of their device. It adds only 0.3 inches to the device's size and 70 percent to its battery life.
The PowerSkin Battery Case for iPhone 5 packs an in-built 1,500mAh battery that can extend the iPhone 5's talk time up to 6 hours and Wi-Fi time up to 8 hours. The battery case is made of a one-piece silicone and soft-touch case slides that protect iPhone 5 against dust and scratches as well as moderate shock impact.
iPhone5BatteryCase is a website launched by Ironclad Integrity Ltd. in response to the ever-growing battery case offer today. The website reviews battery cases for iPhone 5 looking at, and explaining for buyers, tech specs, battery mAh, design and overall ability to protect the device against damage. The battery case reviews also look at similar products and consumer feedback to create a full picture of today's market.