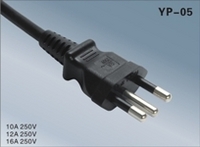 all products shipped to Brazil with a power cord must have that cord conform to the new standard and be formally INMETRO certified
Campbell, CA (PRWEB) October 31, 2008
After decades of confusion and inconsistencies, the Brazilian government certification body, INMETRO (National Institute of Metrology, Standardization and Industrial Quality) has established a firm country-wide standard for power cord plug and receptacle specifications called NBR 14136.
This standard, based on the IEC 60906-1 International specification, is now the only acceptable power cord plug and receptacle standard for export to Brazil. This has a direct impact on manufacturers of products because "all products shipped to Brazil with a power cord must have that cord conform to the new standard and be formally INMETRO certified", says Ivo Landre, President of Signal and Power Delivery Systems.
Highlighting a few key points of INMETRO NBR 14136 standard:
1. Beginning January 1st, 2007 all new residential, commercial and industrial wall outlet installations must comply with this new standard.
2. Beginning August 1st, 2007 all products and power cords must comply and the previously used variety of connector styles including NEMA and CEE7 (European Schuko) will no longer be accepted by Brazil.
"Unfortunately, we have first-hand experience where many suppliers continue to ship products with a power cord based on the older non-compliant standard", continues Landre. As a supplier of power cord plugs and receptacles it is important we alert our manufacturing, distributor and retail partners of the updated standards in Brazil via this press release, our website or by contacting SPDS directly. While the new standards have already taken affect, there is a grace period which extends through December 31, 2008 for distributors and retailers.
The following NBR 14316 compliant power cord plugs are available for immediate shipment from Signal and Power delivery systems for Brazil Power Cords:
YP-21C, Class II ungrounded two prong plug, 10A 250V
YP-04, Class I grounded three prong plug, 10A 250V
YP-05, Class 1 grounded three prong plug, 10A 250V, 12A 250V or 16A 250V
About Signal and Power Delivery Systems
Signal and Power Delivery Systems (SPDS) is a manufacturer of power cords and plug adapters. SPDS supplies OEM's in the computer, security, wireless, medical, networking and consumer electronics markets. SPDS offers a complete line of standard and custom power cords and cable assemblies, plastic molded products and virtually any interconnect and power solution. SPDS is firmly committed to providing the finest value for quality, price and service available in the marketplace. For more information, please contact SPDS at (408) 871-7828 or visit our web site at Signal and Power Delivery Systems
###