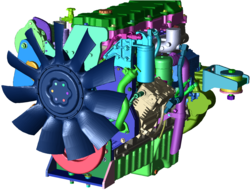 With the increasing popularity of JT as a neutral CAD data format, we are pleased to now offer direct import of JT files.
Burlington, MA USA (PRWEB) November 30, 2012
Exa® Corporation (NASDAQ:EXA), a global innovator of fluids simulation solutions for product engineering, announces the release of PowerDELTA® 1.7, the latest version of its innovative mesh preparation software solution. This release offers support for the JT™ file format, improves import speed, and provides real time graphics performance for large production models as well as numerous usability improvements.
"With the increasing popularity of JT as a neutral CAD data format, we are pleased to now offer direct import of JT files," said Sai Ram Kandarpa, PowerDELTA Product Manager. "PowerDELTA not only imports JT parts but also reads and takes advantage of assembly structures present in the file, further streamlining the mesh preparation process".
PowerDELTA 1.7 handles large production models with ease. This release features improved import performance and memory management, creation of visualization models is 5 to 8 times faster, and 3D viewer operations are real-time for even the largest models.
User productivity improvements include updated templates that automate the process of preparing PowerFLOW-ready and PowerTHERM-ready meshes with minimal user interaction.
About Exa Corporation
Exa Corporation develops, sells and supports simulation software and services to enhance product performance, reduce product development costs and improve the efficiency of design and engineering processes. Our simulation solutions enable our customers to gain crucial insights about design performance early in the design cycle, thus reducing the likelihood of expensive redesigns and late-stage engineering changes. As a result, our customers realize significant cost savings and fundamental improvements in their engineering development process. Our products include, PowerFLOW®, PowerDELTA®, PowerCLAY®, PowerVIZ®, PowerSPECTRUM®, PowerACOUSTICS®, PowerINSIGHT®, PowerCOOL® and PowerTHERM® along with professional engineering consulting services. A partial customer list includes: AGCO, BMW, Ford, Hyundai, Kenworth, MAN, Nissan, Peterbilt, Renault, Scania, Toyota, Volkswagen, and Volvo Trucks.
Founded in 1991, the company is headquartered at 55 Network Drive, Burlington, MA, USA 01803. Tel: 1.781.564.0200; Fax: 1.781.564.0299; Email: info at exa.com; URL: http://www.exa.com; NASDAQ:EXA
Exa, PowerFLOW, PowerCLAY, PowerTHERM, PowerCOOL, PowerSPECTRUM, PowerDELTA, PowerVIZ, PowerACOUSTICS and PowerINSIGHT are registered trademarks of Exa Corporation. JT is a trademark of Siemens Product Lifecycle Management Software Inc. in the United States and/or other countries.
Source: Exa Corporation