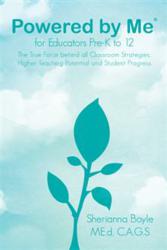 West Barnstable, Mass. (PRWEB) January 17, 2013
In the new book Powered by Me ® for Educators Pre-K-12, published by Balboa Press Sherianna Boyle offers an essential guidebook to mindful teaching methods that will renew teachers, empower students and build communities.
With teacher retention rates hitting an all-time low since 1980 and stress related illnesses continually increasing amongst our youth, educators are now faced with bigger problems than ever before.
The subtitle, The True Force behind all Classroom Strategies, Higher Teaching Potential and Student Progress is aimed at supporting student and teacher growth through cultivating self-awareness. It offers hands on mindful practices for working with behaviors, stress, transitions, self-doubt, criticism and more.
The methods discussed in the book come from years of scientific research and are supported by renowned authors from backgrounds in neuroscience, biology and education. Boyle takes the research out of theory and into practice showing educators how to select strategies that not only support their students but also themselves.
"Powered by Me ® for Educators Pre-K to 12"
By Sherianna Boyle
Hardcover | 6 x 9 in | 234 pages | ISBN 9781452562124 |
Softcover | 6 x 9 in | 234 pages | ISBN 9781452562100 |
E-Book | 213 pages | ISBN 9781452562117 |
Available at Balboa Press, Amazon and Barnes & Noble
About the author:
Sherianna Boyle worked in public education as a school psychologist and parent educator. She currently is a leader of empowerment groups for young girls, teacher of meditation, and yoga as well as an adjunct professor of psychology.