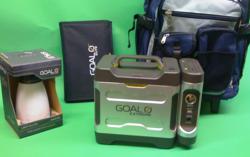 Our Solar-Powered HomePowerKit could have helped many of those folks without power.
Los Angeles, CA (PRWEB) January 10, 2012
The Santa Ana winds have made a return in this unusually warm January weather, and PowerSurvival.com reminds Southern Californians to be prepared for more power outages. Gusts of up to 100 mph have been reported in past wind storms, causing school closures, airline flight diversions, roofs blown off houses, hundreds of downed trees and even crushed buildings.
"When trees fall on wires and transformers blow, entire neighborhoods can find themselves without power for days," says a spokesman from PowerSurvival.com. "Our Solar-Powered HomePowerKit can help many of those folks without power by providing them with light as well as power for some of their basic needs. Some households own gas-powered generators, but they're difficult to use and many of the people affected by the outages live in apartments. A battery-powered solar backup generator is the only option for them."
The spokesman continued, "We just want Southern Californians to be aware that when the Santa Ana winds blow, local fire-fighters and power crews aren't the only ones needing to be prepared for more downed trees and more blackouts."
PowerSurvival.com is a First Aid Global company who specializes in emergency preparedness for power failures during storms and other disasters. They also carry a number of solar-powered rechargers for phones, pads and pods and can be reached at http://www.powersurvival.com or toll free at 866-305-1753. To see more press releases for First Aid Global or PowerSurvival, visit their News Articles page.
###