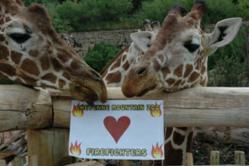 We are indebted and grateful to the men and women who fought the fire and saved and protected so many homes and businesses. Thanks to their selfless efforts, we are getting back to business now
Colorado Springs, Colo. (PRWEB) July 06, 2012
Getting back to business as usual is the goal for Pikes Peak Country Attractions Association members. Thanks to the extraordinary efforts of the nation's firefighting forces, the wildfire that plagued the Colorado Springs region has been quelled. With safe conditions restored and plenty of summer left, Colorado Springs, Manitou Springs, Cañon City and Cripple Creek continue to offer a family-friendly, affordable mix of geological wonders, developed attractions, historical marvels, one-of-a-kind adventures and entertaining performances. Twenty-five out of 26 Pikes Peak Country Attractions are ready to welcome back summertime visitors.
"We are indebted and grateful to the men and women who fought the fire and saved and protected so many homes and businesses. Thanks to their selfless efforts, we are getting back to business now," said Michele Starling, executive director of Pikes Peak Country Attractions Association. "Our hearts, however, go out to the family, friends and employees of the Flying W Ranch, which was lost." The working cattle ranch, which has operated since 1953, has plans to rebuild and continue the tradition of entertaining visitors with its Western-themed dinners and shows.
With Interstate 25 and all main transportation arteries undamaged and open, travel to Colorado Springs from Denver is as easy and efficient as it has always been. A short 75-minute drive puts visitors within distance of their favorite Colorado Springs and Pikes Peak area sites and attractions, including:

Academy Riding Stables
Cave of the Winds
Challenge Unlimited - Pikes Peak by Bike
Cheyenne Mountain Zoo
Cripple Creek and Victor Narrow Gauge Railroad
Cripple Creek Heritage Center
Echo Canyon River Expeditions
Garden of the Gods Trading Post
Garden of the Gods Visitor & Nature Center
Ghost Town Museum
Historic Manitou Springs
Historic Old Colorado City
Iron Springs Melodrama Dinner Theater
John May Museum
Manitou Cliff Dwellings
Miramont Castle Museum
Mollie Kathleen Gold Mine
North Pole - Santa's Workshop
Pikes Peak - America's Mountain
Pikes Peak Cog Railway
ProRodeo Hall of Fame
Royal Gorge Bridge and Park
Royal Gorge Scenic Railway
Seven Falls
The Western Museum of Mining & Industry
These Pikes Peak Country Attractions Association members are ready to greet visitors and usher in the second half of the summer season. To take a look at our clear skies and weather conditions, be sure to check out the live webcam at Pike's Peak Cog Railway.
"People are asking us what they can do to help," said Starling. "What we need now, more than anything, is support, so we encourage you to keep your plans to see us this summer, put us on your travel itinerary or come visit us for a day. We're here, we're open and we're ready to welcome you back."
About Pikes Peak Country Attractions Association
Since 1974, the Pikes Peak Country Attractions Association (PPCAA) has been promoting the Pikes Peak region, comprised of Colorado Springs, Manitou Springs, Cripple Creek and Cañon City, to millions of destination visitors. The 26 members of the PPCAA offer natural and man-made attractions that are family-oriented and safe while adding to the quality of the vacation experience. High-resolution photos and links to our member attractions may be found at http://www.Pikes-Peak.com. The PPCAA office is open 9:00 AM to 5:00 PM Monday through Friday and has a new location at 6 S. Tejon St., Suite 415, Colorado Springs, CO, 80903.
Media Contact
Michele Starling, Executive Director
Pikes Peak Country Attractions Association
800-525-2250 or 719-685-5894
michele(at)pikes-peak(dot)com