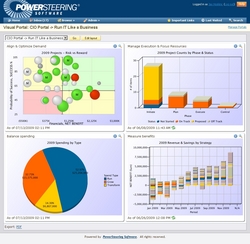 Cambridge, MA (PRWEB) October 19, 2010
PowerSteering Software, the leader in on-demand enterprise project & portfolio management (PPM) solutions, today announced strong results for the quarter ending September 30, marked by significant new customer wins and extensive customer expansion.
"We're seeing many new customers choose PowerSteering's easy-to-use, business-oriented PPM software because they can't justify a 6-9 month implementation cycle that delays results, defers the return and frustrates users who have immediate portfolio needs that PowerSteering can quickly solve," remarked Stephen Sharp, PowerSteering's Chief Executive Officer.
Key new clients acquired during the quarter include:

AICPA: the national association of CPAs, with more than 360,000 worldwide members.
Hachette UK: the largest and one of the most diversified book publishers in the UK.
Intervet/Schering-Plough Animal Health: a global leader in the research, development, manufacturing and sale of veterinary medicines.
Novation: the healthcare industry's leading supply contracting company for nearly 25,000 VHA and UHC member organizations, helping manage and reduce supply costs.
Shaw Industries Group: a subsidiary of Berkshire Hathaway, Inc. and the world's largest carpet manufacturer with more than $4 billion in annual sales.
Tesco Bank: the UK's most successful supermarket bank with 6.5 million customer accounts across 28 products and services.
US Foodservice: a leading foodservice distributor offering more than 43,000 national, private label and signature brand items and an array of services to more than 250,000 customers.
Q3 sales performance also encompassed strategic expansion at several existing customers, including BE Aerospace, BP Solar, Defense Logistics Agency, The Office of the Secretary of Defense, Molex, and Vertex. Additionally PowerSteering presented at the Process Excellence Leaders Meeting in Chicago and conducted a webcast on "Maintaining Lean Six Sigma Relevance, Resiliency, and ROI During a Recession."
About PowerSteering Software
PowerSteering Software is the leader in On-Demand Enterprise PPM software for managing IT, New Product Development, Six Sigma and other enterprise initiatives. Its easy-to-use software provides executives at Acosta, Ingersoll Rand, Merck, United Health Group, US Department of Defense, and over 140 other customers with executive visibility, strategy alignment, and enhanced team productivity to drive strategy and accelerate results across the enterprise.
###