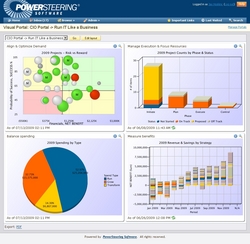 Cambridge, MA (PRWEB) October 1, 2010
PowerSteering Software, the leading project & portfolio management (PPM) solution for managing IT and business-driven programs and initiatives, will host a new webcast on Thursday, October 14 at 11:30 a.m. (EST). The free session, "From Promise to Payoff – Achieving Breakthrough Results with PPM Tools," will feature guest speakers Alex Cullen and Tim DeGennaro, analysts at Forrester Research, Inc., and PowerSteering's Craig Jackson, a Principal Consultant with more than 10 years of PPM deployment experience. Those interested in attending the event may register online.
A study by Forrester Research estimates the typical PPM software implementation can achieve an ROI of over 250% with a payback period of less than 12 months ("The ROI of Project Portfolio Management Tools," May, 2009). Yet achieving such impressive results depends on more than just choosing the application with the right list of features. Forrester's interviews with clients of PPM vendors have uncovered a number of deployment "lessons learned" that, if proactively addressed, can help organizations turn their adoption of project portfolio management tools into a driver of truly extraordinary performance. PowerSteering's upcoming webcast will explore these common PPM implementation challenges and reveal proven strategies for circumventing them.
Participants will learn:

The primary drivers of PPM software ROI
The most critical mistakes of PPM implementations - and how to avoid them
Ways to improve top-down support for your PMO or PPM practices
The keys to accelerating user adoption
Strategies for managing the PPM vision, the resulting change, and your PPM vendor
A library of past webcast recordings is available on the PowerSteering website.
About PowerSteering Software:
PowerSteering Software is the leader in on-demand enterprise project & portfolio management (PPM) solutions for managing Information Technology, Lean Six Sigma, Product Development, and other enterprise initiatives. Its easy-to-use software provides executives at Ecolab, Lloyds Register, Merck, Shaw, Tyco, United Airlines, and over 140 other customers with executive visibility, strategy alignment, and enhanced team productivity to drive strategy and accelerate results across the enterprise. For additional information, please visit powersteeringsoftware.com or call 1-866-390-9088.
###