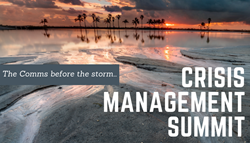 This programming will allow attendees to get a 360-degree view of crisis management so that they can be armed with the right skills to avoid long-term damage to their brand or client the next time a crisis hits
MIAMI (PRWEB) December 21, 2018
The Crisis Management Summit on February 27-28 in Miami will focus on how to prevent, identify, manage and resolve PR crises of all types and sizes. According to a recent PR News poll, over 40% of communicators view crisis management as their biggest challenge in 2019. Over 20 speakers from brands like JUUL, Equifax, Heineken, GoDaddy, Hilton, NAACP and MSNBC will examine crisis preparedness plans, crises on social media, measuring a crisis and so much more. Communicators can save $300 on their passes through January 18.
"This programming will allow attendees to get a 360-degree view of crisis management so that they can be armed with the right skills to avoid long-term damage to their brand or client the next time a crisis hits," said Amy Jefferies, PR News' VP of marketing. "Our community has expressed to us that crisis management is their biggest focus area for the new year, which is why we're kicking off our event calendar with this must-attend summit."
The 2019 Speaker Lineup includes:
Brandi Boatner, Social and Influencer Communications Lead, Global Markets, IBM
Matt David, Chief Communications Officer, JUUL
Marisa Salcines, Global University Relations Lead, Technology & Cybersecurity, Equifax
Jennifer Butler, VP Corporate Communications, Herbalife
Errol Cockfield, SVP, Global, MSNBC
Kevin Elliott, U.S. Director, Risk & Crisis Communication Practice, Hill+Knowlton Strategies
Kena Lewis, Director, Public Affairs & Media Relations, Orlando Health
Stacey DePolo, Social Media Manager, GoDaddy
Nigel Glennie, VP, Corporate Communications, Hilton
David Quiñones, VP, Editorial & Content, RockOrange
Bjorn Trowery, Director of Corporate Communications and Brand PR, Heineken
In addition to case study and breakout sessions, attendees will have also the opportunity to participate in various networking activities to build connections with their event peers. On February 27 from 4 to 5 p.m., attendees will gather together for a ceviche tasting followed by an Opening Reception with drinks and appetizers.
The summit is on track to sell out. Communicators should book their passes by January 18 to save $300 per ticket. Group as well as nonprofit/government pricing is available. Register online.
For registration questions, contact director of marketing, Laura Snitkovskiy at laura(at)accessintel.com. To sponsor this event, contact sales director, Katie Sullivan at ksullivan(at)accessintel.com.
Show Sponsors & Partners: Crisp, Dataminr and Muck Rack.
About PR News
The PR News Group is a go-to source that serves the communications and marketing community at corporations, agencies and nonprofits. For more information, visit http://www.prnewsonline.com.