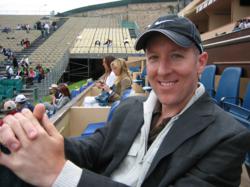 Getting rid of your logo is like going through a divorce so it's important to get a logo correct the first time.
Rochester, NY (PRWEB) February 10, 2012
Ben Cummings is founder of Practice Building Center, the web's largest chiropractic marketing forum andtraining site containing over 300 tutorial videos and downloads.
Ben's latest venture is a blog called ChrioBullets.com. The blog places a focus on chiropractic marketing tips and strategies, with a focus on getting more patients. Today, Ben published his latest post, titled "Best place EVER for Chiropractic Logos".
Chiropractors can access the new blog post here:
http://blog.practicebuildingcenter.com/best-place-ever-for-chiropractic-logos/
In his latest post, Ben uses a video to showcase the best approach to chiropractic logos, as well as a behind-the-scenes look at the best place to get them created.
Initially, Ben strives to make the value of a great logo clear to the viewer. He explains that many businesses 'marry their logo' and that getting rid of your logo is like 'going through a divorce'. Hence, it's important to get a logo correct!
In order to provide an actual resource in order for Chiropractors to obtain excellent logos, Ben shares his favourite website – http://www.99designs.com. As Ben makes clear, he highly approves of the service the site provides:
"I take you to this relatively undiscovered gem of a service that is the best place I've EVER found for getting an amazing logo created" says Ben. The video explains how 99Designs.com allows you to preview logo designs from dozens of different designers before you settle on one to deliver the final work.
"It's a killer concept. In the past I have resorted to using Elance or oDesk for logos, and have always had to approach many different designers before I find something I like. With 99Designs.com you actually get to see dozens of mock logos before you put your faith in one individual designer" Ben adds.
In all, Ben's latest blog post offers an excellent visual resource to help any Chiropractor approach logos in a sensible and cost-effective way. The video is short, entertaining and easy to digest.
Where can a chiropractor learn more? Chiropractors can subscribe to ChiroBullets(TM) for free. They should visit Ben's chiropractic marketing blog at ChiroBullets.com. "Chiropractors can start receiving ChiroBullets (TM) for no cost. They are daily, hand-picked chiropractic marketing tips and superb marketing tutorials. They are delivered to your inbox email as soon as they hit the scene," says Ben.
Ben thinks this is important information for chiropractors, and asks chiropractors to Like his Page on Facebook to learn exclusive tips and tricks. "I'd appreciate your help in spreading the wordamongst chiropractors," says Ben Cummings.
Like this? Check out Ben's last article: New Blog Post from Expert Chiropractic Marketer, Ben Cummings, Explains How Waking Up Early Can Double a Chiropractor's Practice
###