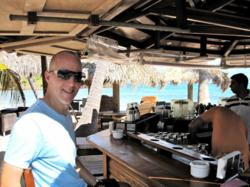 Takeaway Selling is the most powerful way to approach new patients and can result in near 100% case acceptance at higher fees when done properly.
Rochester, NY (PRWEB) February 12, 2012
Ben Cummings is founder of Practice Building Center, the web's largest chiropractic marketing forum andtraining site containing over 300 tutorial videos and downloads.
Ben's latest venture is a blog called ChrioBullets.com. The blog places a focus on chiropractic marketing tips and strategies, with a focus on getting more patients. Today, Ben published his latest post, titled "Takeaway Selling Case Study – Pinterest.com".
Chiropractors can access the new blog post here:
http://blog.practicebuildingcenter.com/takeaway-selling-case-study-pinterest-com/
Within the blog post, Ben initially explains the concept of takeaway selling. Specifically, Ben explains the concept as it pertains to a chiropractor:
"Takeaway Selling is an approach that is the opposite of traditional selling. In traditional selling, the doctor is made to 'sell' the patient on a case recommendation. But with the Takeaway Selling Approach, the patient/prospect is made to jump through hoops to become 'accepted' into case by the doctor," says Ben.
In order to give a real-world example of successful takeaway selling in action, Ben explains how Pinterest.com employs the method. Ben's core point with this example is the illustration of how Pinterest creates hysteria and excitement by making potential members gain an 'invite' to join the network.
"Rather than trying to sell you on their services straight away, instead they take it away! The first thing you see on their site is a message saying: Request an Invite," adds Ben.
Following Ben's Pinterest example, he explains how the same concept can be applied to chiropractors. He makes it clear that removing the 'cheesy salesperson' element is always a good thing:
"Take a page from Pinterest (and other excellent Takeaway Selling masters) and make the patient feel 'lucky' to have gotten in to see you, and then further feel relieved to been accepted as a patient. This will transform your Core Business Strategy and will actually encourage deeper loyalty and a feeling of being an 'insider' amongst the accepted patients," he concludes.
Where can a chiropractor learn more? Chiropractors can subscribe to ChiroBullets(TM) for free. They should visit Ben's chiropractic marketing blog at ChiroBullets.com. "Chiropractors can start receiving ChiroBullets (TM) for no cost. They are daily, hand-picked chiropractic marketing tips and superb marketing tutorials. They are delivered to your inbox email as soon as they hit the scene," says Ben.
Ben thinks this is important information for chiropractors, and asks chiropractors to Like his Page on Facebook to learn exclusive tips and tricks. "I'd appreciate your help in spreading the wordamongst chiropractors," says Ben Cummings.
Like this? Check out Ben's last article: Ben Cummings, Chiropractic Marketing Guru, Announces New-Found Method for the Best Approach to Chiropractic Logos.
###