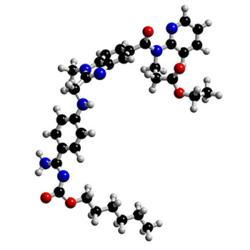 Anyone affected by internal bleeding after taking Pradaxa is urged to speak with a lawyer about their legal options as soon as possible.
Dallas, TX (PRWEB) January 10, 2013
The prescription drug resource center DrugRisk.com is alerting patients who have taken the blood thinner Pradaxa that new information added to the site shows a federal judge has ordered the maker of the drug to disclose all data of side effects.
"DrugRisk's goal is to improve patient safety through education of the latest drug warnings, recalls, studies and litigation news. In some cases, litigation can provide a look into drug studies and safety risks that weren't previously made public," explains DrugRisk representative Ryan Mayer.
The resource center recently advised of a warning by Australia's Pharmaceutical Benefits Advisory Committee (PBAC) that the government may no longer furnish Pradaxa due to concerns that it is being prescribed at doses and patient ages not tested in clinical trials.*
In the United States, experts disagree about the safety of Pradaxa and its bleeding risks. The FDA recently updated Pradaxa warnings to say the drug carries the same risks as warfarin.** However, the New York Times also reported doctors' concerns that Pradaxa led all medications for adverse reports and currently has no antidote for internal bleeding.***
Due to the number of patients filing a Pradaxa lawsuit over internal bleeding, the cases have been moved to a special federal court in Illinois, formally known as MDL No. 2385, IN RE: Pradaxa Product Liability Litigation, Southern District of Illinois.
Now, DrugRisk has learned that Judge David Herndon has ordered the maker of the drug, Boehringer Ingelheim, to turn over a database of all Pradaxa Adverse Events worldwide to date by January 14, 2013.****
Anyone affected by Pradaxa internal bleeding is urged to speak with a lawyer about their legal options as soon as possible. Due to the specialized nature of federal drug injury cases, the Drug Risk Resource Center only recommends lawyers who are already handling Pradaxa lawsuits.
For more information on the research, side effects and litigation news related to Pradaxa and other drugs, or to speak with a lawyer, visit http://www.DrugRisk.com.
*pharmatimes.com/Article/12-12-20/Australia_warning_over_Pradaxa_PBS_listing.aspx
**fda.gov/Drugs/DrugSafety/ucm326580.htm
***nytimes.com/2012/11/03/business/a-rising-anti-stroke-drug-is-tied-to-risk-of-bleeding-deaths.html
****Amended Case Management Order 17, January 3, 2013, Judge Herndon