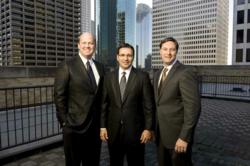 San Antonio, TX (PRWEB) June 07, 2012
As one of the leaders in the Pradaxa litigation, Watts Guerra Craft LLP has filed a Motion to Consolidate the Pradaxa mass tort litigation in federal court. There are currently twenty-one Pradaxa lawsuits filed in federal courts across the country, with Watts Guerra Craft LLP having filed nine of those pending actions. A Motion to Consolidate is filed to bring cases filed in multiple federal district courts into one court in what is called Multidistrict Litigation (MDL).
On May 14, 2012, Plaintiff Vera Lee Sellers filed Vera Lee Sellers vs. Boehringer Ingelheim Pharmaceuticals, Inc., et al. in the Southern District of Illinois, East St. Louis Division, Case No. 3:12-cv-00615. In her petition, Ms. Sellers claims that Pradaxa is dangerously defective, and that its manufacturer Boehringer Ingelheim engaged in questionable marketing practices.
Pursuant to 28 U.S.C. §1407, Plaintiff Sellers, by and through her attorneys Mikal C. Watts and Ryan L. Thompson, filed a motion to have all Pradaxa lawsuits consolidated in a MDL, and transferred to the United States District Court for the Southern District of Illinois, East St. Louis Division, before the Honorable David R. Herndon. The 21 cases on file nationally are currently pending in 12 different federal district courts. All of these Pradaxa injury and death cases assert similar claims against Boehringer Ingelheim. Besides Ms. Sellers' case, other lawsuits have been filed in the district courts of Illinois, Tennessee, Kentucky, Oklahoma, Connecticut, Florida and Louisiana.
Consolidating lawsuits into Multidistrict Litigation can help to expedite the discovery phase of litigation for numerous lawsuits all making similar claims. The Judicial Panel on Multidistrict Litigation will hold a hearing in the near future to determine if consolidation is appropriate.
Mikal C. Watts became famous for his landmark recoveries in vehicle rollover cases and his trial team position with the BP Multi-District Litigation (MDL No. 2179). He and his team of 25 lawyers are closely watching the ongoing U.S. Food and Drug Administration (FDA) investigation into Pradaxa and its side effects.
Pradaxa was approved in October 2010 by the FDA for the prevention of stroke in patients with non-valvular atrial fibrillation. Atrial fibrillation is the most common heart rhythm condition in the world. Pradaxa was the first alternative blood thinner approved in nearly 60 years. Due to a large number of adverse event reports in patients taking Pradaxa, the FDA has already required German pharmaceutical manufacturer Boehringer Ingelheim to update its Pradaxa label multiple times. The January 2012 label change added additional information regarding the dangers of bleeding events and the lack of a reversal agent for Pradaxa; however, the drug label still remains devoid of adequate warnings or any "black box warnings," and should be recalled by the FDA.
For more information about Watts Guerra Craft LLP, please visit our website, find us on Facebook or follow us on Twitter.
Stacey Burke
National Marketing Attorney
Watts Guerra Craft
(877) 887-9433
contact(at)wgclawfirm(dot)com